In the beginning
Guernsey entered the world of aviation in World War 1 when the French established an anti-submarine seaplane base near Castle Cornet.
Civil Aviation dated from 4 October 1919 when an Avro 536 prototype seaplane settled on the waves off St Peter Port to discharge one passenger, a Lt Fulford who had hitched a lift from Jersey, the aircraft's first port of call from Southampton. In 1923 a regular scheduled passenger service was started using a Supermarine Sea Eagle flying boat.
The first land-based airfield was the flood-prone L'Eree Aerodrome, with a runway of 450 yards. A temporary licence for commercial flights to Bournemouth was granted in 1935 to Cobham Air Routes operating tri-engined Westland Wessex monoplanes. The service ended abruptly with a fatal crash off the English Coast and the airfield fell into disuse. Approval for the new Guernsey Airport at La Villiaze, Forest was granted by the States by the narrowest of margins 26 votes to 25, and the current site was officially opened on 5 May 1939, by the Air Minister Sir Kingsley Wood.
The Airport cost £100,500 to construct and had four grass runways, the longest was 1,000 yards. It offered night landing facilities, direction finding equipment and a concrete fog-line. The £14,000 state of the art two storey terminal building housed the met office and air traffic control, as well as passenger handling facilities and earned the airport a reputation as one of the finest in the world.
The day after it opened, Guernsey Airways and Jersey Airways (later Channel Island Airways) began operating passenger flights to Heston (London) and Southampton and weekend trips to Shoreham. These services carried 5,000 passengers before being reduced at the outbreak of war.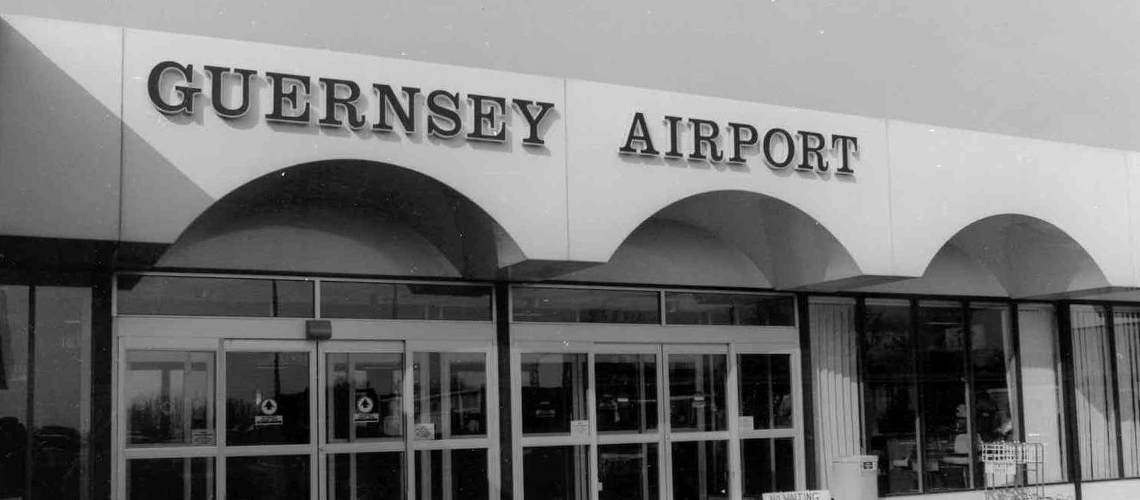 The war years
Four months after its grand opening, Guernsey Airport was taken over by RAF Coastal Command but Channel Island Airways continued a limited service flying DH86's. Meanwhile, 48 Squadron RAF flew Avro Ansons on anti-submarine patrols and later an RAF School of General Reconnaissance operated until June 1940. Just before the airport was abandoned by the British military, it was used to launch a bombing raid on Turin.
After declaring the Channel Islands demilitarised the withdrawing RAF personnel systematically sabotaged the airport's aeronautical technology to make it unserviceable to the enemy.
On 28 June 1940, Heinkel 111's bombed St Peter Port Harbour killing 29 people. On Sunday 30 June, a German Dornier bomber became the first enemy aircraft to land at La Villiaze. Admiral Eugen Lindau discovered that he had left his battle flag behind so ordered Creasey's to make a new one. Thus began the German Occupation of Guernsey. In subsequent months there followed Junkers 52 troop carriers, Dornier DO 17 bombers, Heinkel He 111 bombers, Henschel Hs 126 reconnaissance aircraft, ME109 fighters and Junkers Ju 87 dive bombers.
The island was liberated on 9 May 1945 and a month later His Majesty King George VI and Queen Elizabeth arrived at Guernsey Airport in a Dakota of RAF Transport Command. It was the first time a Queen of England had ever flown in an aircraft.
Mail & freight
Guernsey's first airmail service was launched on 22 May 1939. Two despatches of letters and packages went to the UK each day. Latest times of posting at the GPO's Smith Street head office were 5am for same day delivery in London, Southern England and as far north as Leicester and 2:15pm for UK-wide delivery the following morning.
In 1945 a daily mail and newspaper flight from Southampton was operated by Channel Island Airways. In 1947 British European Airways took over the service with a DC-3 freighter flying from Northolt to Jersey via Guernsey. There followed a variety of operators who took up the challenge of delivering this vital cargo to the island. Meanwhile the transport of other freight from vehicles to tomatoes was seen by some entrepreneurial carriers as a new business opportunity. In 1956 Silver City Freight Services flew flowers to Southampton for transporting onward to Covent Garden. It's Bristol freighters' noses could be swung open allowing up to three cars to be loaded along with normal cargo and passengers. Silver City was taken over by British United Airways in 1962 and BUA continued this car ferry service until 1967.
From 1963, BEA, using 4-engined Argosy aircraft, carried flowers and produce to the UK twice a week providing an additional valuable service to commercial growers. In 1970 the Argosy was replaced by the Vickers Merchantman, which continued the links until 1975. By this time Express Air Freight had become the dominant force in the business of flying cargo. In 1983 Channel Express was formed and became the island's dedicated freight carrier using iconic F27 aircraft. When Channel Express sold its aircraft business in 2006, Emerald Airways and then Atlantic Airways took over the local freight operations both operators using ATP aircraft to transport freight.
Keeping up with technology
State-of-the-art the airport may have been in 1939 but by 1947 developments in aviation demanded advances in technology to go with it. So, the first two-way VHF radio communications network was established. Radar trials began in 1955 and became operational in 1956 taking the pressure off hard pressed Air Traffic Controllers who, following the opening of the new hard runway in 1960, would be coping with upwards of 18,000 aircraft movements each year. Radar was updated in 1965 with a Plessey AR1 surveillance radar unit, the first of its kind to be commissioned in the world at a civil airport. In 1975 two Plessey Type 17/18 Instrument Landing Systems were commissioned. In 1977 air traffic control, the met office and other technical departments moved into a new block on the west of the main apron. The ILS was updated in 1982 and replaced in 1999. Guernsey Airport has introduced GPS-based RNAV/Baro-VNAV approaches, and intends to introduce more accurate augmented GPS LPV approaches in the near future.
Passenger services take off
On 21 June 1945, just six weeks after the end of the German Occupation, Guernsey Airways and Jersey Airways (later merged as Channel Island Airways) began a regular scheduled service between Croydon, Southampton, Guernsey and Jersey.
In April 1947 Channel Island Airways was subsumed by the nationalised BEA, which ran 33 services per week to Southampton, 21 to Croydon, 95 between Guernsey and Jersey and 12 between Guernsey and Alderney, using DH Rapides. June 1949 saw twice weekly flights to Dinard and in 1954 BEA transferred all its London-based services to Heathrow. Four years later London Gatwick opened and all Guernsey services by BEA – seven flights a day, were transferred from Heathrow.
This led to an outcry from the States of Guernsey which objected to loosing links with the world's premier airport. Meanwhile in 1956 Jersey Airlines took over the Guernsey – Southampton route and all services from Alderney and Guernsey to Dinard. In September 1956, the airport celebrated its millionth passenger.
As part of a cost-cutting exercise, BEA axed its Guernsey-Jersey services in 1969 making way for the recently formed Aurigny Air Services to offer 'walk-on' schedules. Two years later BEA set up its Channel Islands Division using 12 Viscount aircraft. In 1973 a Guernsey –Amsterdam service was introduced. In the same year BEA merged with BOAC and local routes were taken over by a new company British Airways Regional.
In 1974 the airport announced another milestone, with half a million passengers carried to and from the Airport that year.

In 1980, BA axed all its Channel Islands Routes, except Jersey to Heathrow and Manchester. Later, some services were restored only to be axed again. The Guernsey-Heathrow route was awarded to a merged airline, later to become Air UK. In 1998 Air UK transferred its Guernsey-Heathrow services to London Stansted and went on to abandon all its Guernsey routes. BA's final links between Guernsey and the UK ceased in June 2003.
By 2003 the two main carriers linking the island with the UK were Aurigny and the regional carrier Flybe. A smaller operator Rockhopper also started to provide links within the Channel Islands until it was taken over and became Blue Islands. All three airlines remain servicing Guernsey routes today.
Flybe withdrew its London Gatwick services in March 2013 and from that date Aurigny became the only carrier on the lifeline London route. From the Summer of 2013, Aurigny began operating an Embraer 195 jet on that route to increase capacity for what was then a single carrier on the route.
Hard runways and terminal extensions
When Jersey built a hard runway in 1952 it attracted new services and new aircraft. Guernsey was resistant to the idea but bowed to the inevitable. In 1960 a 4,800ft concrete runway and a further-enlarged terminal building (extended in 1952 with a new departure hall and customs area) was formally opened. Initially, passenger loads on the newly-introduced Viscount aircraft were restricted as the end of the runway had not hardened enough! In the 1960s Jersey Airlines became a major local carrier using Heron, DC-3 and Handley Page Dart Herald aircraft. Eventually it became part of British United Airways and its successors BUIA, BIA and Air UK. Following Gatwick's un-popularity with passengers, most services were transferred by BEA back to Heathrow in April 1963.
Meanwhile, a new arrivals hall was opened in the terminal in 1963. On 30 January 1965 Guernsey Airport entered the jet era with the arrival (on a proving flight) of a BUA BAC 111, but, due to objections from noise-averse States members, regular flights did not happen until 1976. In 1975 runway width was increased from 120-150ft and taxiways and aprons were strengthened. In 1977 air traffic control and allied departments moved into a new technical block on the west of the main apron. In 1978 work began on providing larger passenger lounges, modernised catering facilities, improved security and a new international arrivals hall. The west arrivals hall was extended to handle ever-increasing passenger loads.
A major resurfacing of the runway was undertaken in 1974 although the orientation and length of the runway remained unchanged.

In 1999, the then Board of Administration acting on advice from the CAA, commenced the process of redeveloping the terminal building and invited a shortlist of architects to provide a design that would be sufficient in size and facilities to serve the growth of air travel over the next 25 years. The brief was to provide a statement building that would become a memorable gateway to Guernsey.
Over the next 2 years, the current terminal design was finalised and work commenced in 2002 to construct the new terminal building, which was opened on 19 April 2004. Work was then undertaken to demolish the old original 1930's terminal which used to stand on an area now allocated for aircraft parking on the main apron.
From 2004, work focussed on a major rehabilitation of the paved areas, which had largely been undeveloped since the last major resurfacing undertaken in 1974. The Airport 2040 project was the largest civil engineering project ever undertaken in Guernsey and saw the entire redevelopment of the runway, aprons and taxiways at a total budget cost of £80.4m.
The airport remained operational throughout the period and the work was successfully completed in July 2014. The end result is a world-class facility that will service the needs of the island for many decades to come. Much debate was held on whether to extend the asphalt runway from its 1463m length, but aside from some future proofing which will enable a later runway extension with relatively minor impact on the existing infrastructure, the same length runway was provided albeit set in larger safety areas at each end of the runway.
Guernsey Airport was one of the first airports in the UK to adopt LED runway lighting, the principle having been approved by the CAA during the life of this development and was able to be incorporated into the design at Guernsey.
"The Airport supports 649 direct jobs and provides an income injection of £31.2 million into the Guernsey economy. However, it is clear that the main economic benefit comes from the contribution it makes to the connectedness of the Bailiwick as a place to live, work and visit."
York Aviation, 2009