One of the most visible aspects of the security process is making sure our passengers do not take on-board prohibited items – a task that inevitably adds time to your journey through the airport and onto your aircraft.
Click Here for a full guide for all passenger security information.
Knowing what you can and can't take on an aircraft – as well as allowing yourself plenty of time for security screening when you get to Guernsey or Alderney Airports – will save you time and inconvenience and make your journey more enjoyable.
Please follow our tips:
Please ensure that your hand luggage is within the maximum dimensions and quantity permitted by your airline, prior to departure.

Have only your boarding card ready for inspection – your passport or other identity documents are not required at security.
Have all your toiletries, aftershaves, perfumes and cosmetics (in containers of 100ml or less) in a transparent resealable plastic bag for security staff to X-ray separately.
Make sure your plastic bag containing your liquids are in your hand and not in your hand luggage before you get to security as this will help speed up the process.
Remove coats and jackets, they will be screened separately while you walk through the security archway. Please wait until called forward!
Take your laptop, tablet (e.g. iPad) and any other large electrical items from your hand baggage to be X-rayed separately.
Should you leave any large electrical items in your hand luggage when you pass through security will result in your bag being searched, which will slow you down through the security process.
You may be asked to remove your shoes, and you may be asked to remove your belt and large items of jewellery before going through the security archway.
Lithium batteries: Your phone, laptop and other electronic devices contains lithium batteries. Lithium batteries and e-cigarettes are dangerous goods. If lithium batteries are damaged or short circuited they can start a fire. Please do not carry them in your checked-in luggage; carry them with you. Follow this link for further information on Lithium batteries.
Going Through Security
Passengers are allowed to take ONE bag through security
1 piece of hand baggage, or 1 handbag, or 1 laptop briefcase. For exact dimensions please check with your airline prior to your day of travel.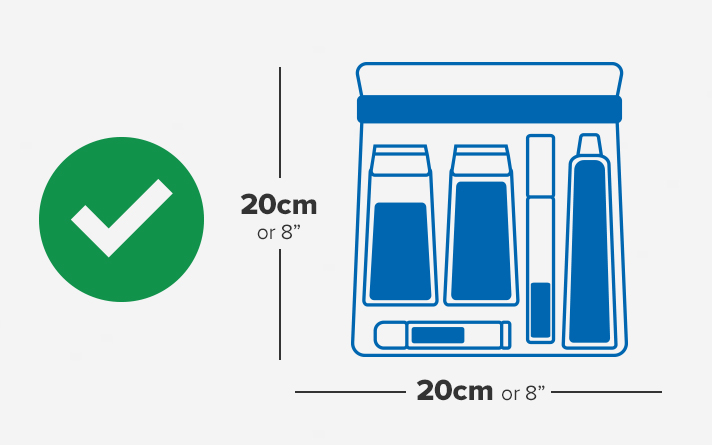 Travel size toiletries - 100ml max
In a clear plastic, re-sealable bag
No bigger than 20cm x 20cm
(external to your ONE bag)
The definition of liquids includes gels, pastes, lotions, liquid/solid mixtures and the content of pressurised container e.g. toothpaste, hair gel, lip gloss (solid lip sticks may be carried), drinks, soups, syrups, perfume, deodorant, shaving foam, aerosols etc.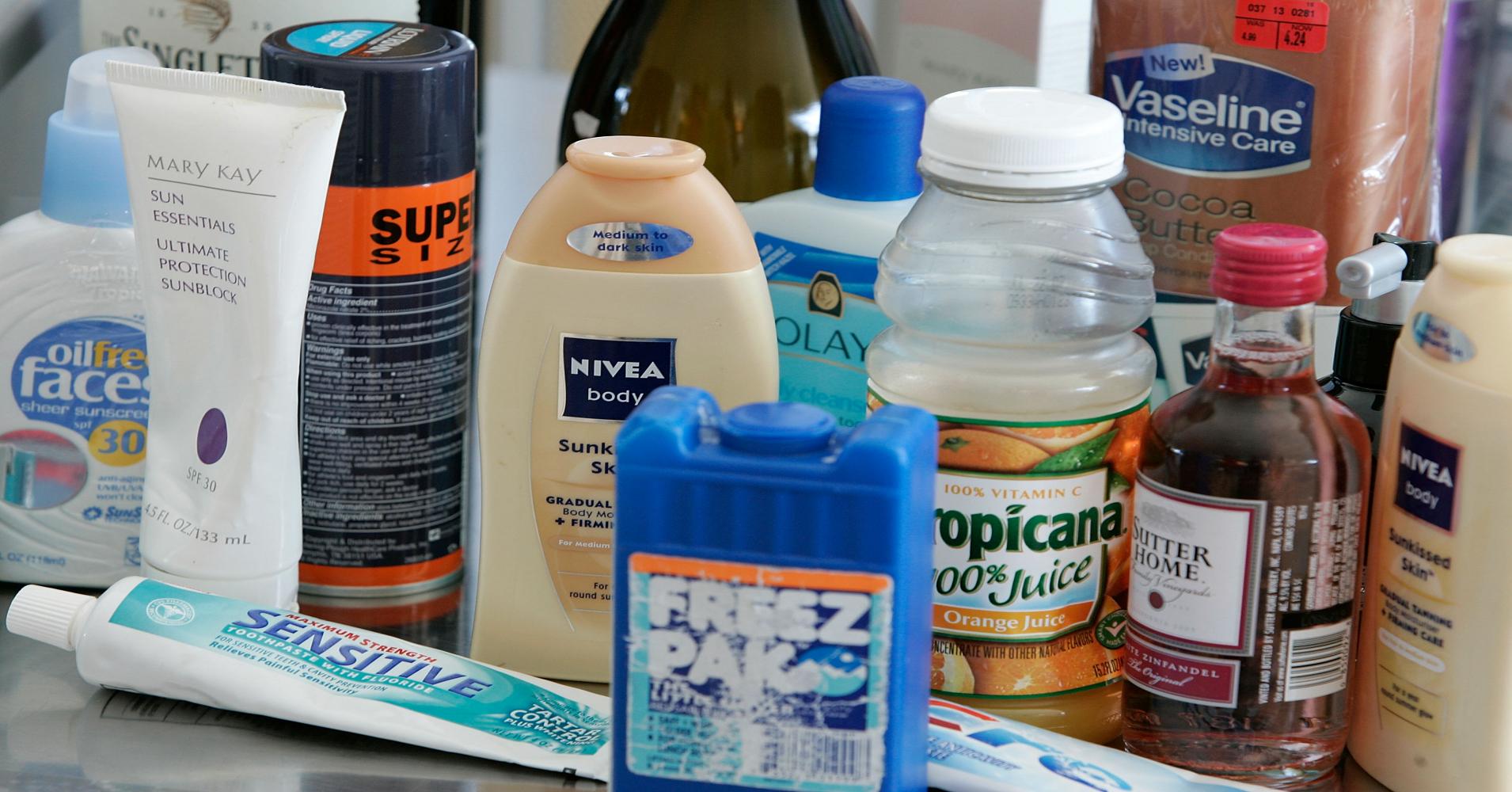 What am I allowed to take through security as part of my hand-luggage?
Knowing what is allowed and what is not allowed before you arrive, as well as allowing yourself plenty of time to follow all the security procedures when you get to Guernsey or Alderney Airports; will save you time and inconvenience and make your journey more enjoyable.