Aurigny Release Flights Early to Help Customers
17th March 2021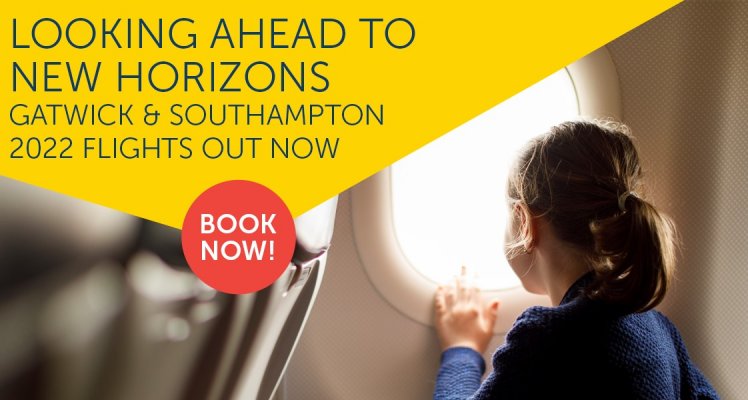 Aurigny has released its flights to London Gatwick and Southampton right through until October 2022.
Commercial Director, Malcolm Coupar said, "We understand that many customers use Aurigny to travel to the UK prior to onward travel. We also know that many people have now moved holidays and future travel plans to 2022, with the extra certainty that travel next year gives. To assist our customers, we have now released our Gatwick and Southampton schedule right through to the end of October half-term 2022, so that customers can now book the local leg of their journeys or plan future UK trips."
In addition to releasing flights early, Aurigny has also extended their Aurigny Assurance promise until the end of April, 2021 meaning that customers can book or change flights to later in 2021 with the confidence that they are able to cancel or change their booking for whatever reason up to 48 hours in advance. If customers choose to move their flight, then no change fees will apply and they would only have to pay something if the fares were higher on the new flights.
Mr Coupar concluded: "We want to make sure customers have confidence to book travel even though it is still uncertain when restrictions may be lifted. If customers book a flight for later in 2021 by 30 April this year, then it will be covered by our Aurigny Assurance scheme, which allows customers to cancel or change their flight without question."
Aurigny has quickly adapted during the pandemic introducing new safety practices with enhanced PPE, regular crew testing and increased cleaning and disinfecting of our aircraft. These measures remain in place as the safety of our customers and crew is of paramount importance. We cannot wait to return to the skies with an increased schedule to all our destinations but can only do this when it is deemed safe by our government to do this.
To book please visit www.aurigny.com