Drop off early to get-away breakfast on us
20th October 2021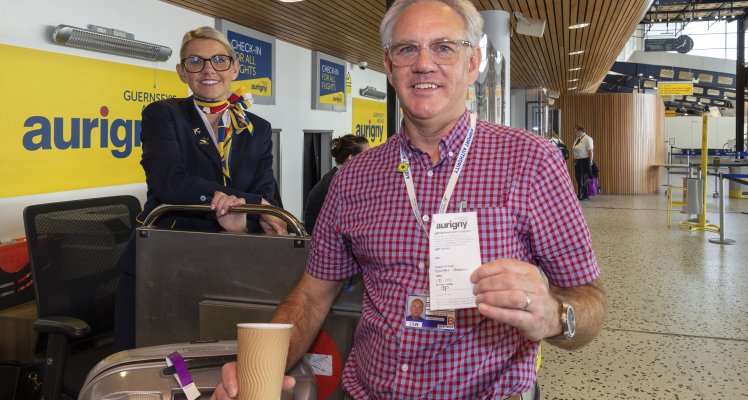 A free breakfast could be the perfect start for travelers flying off for a break this half term.
Starting from 21 October, Guernsey Ports are giving away a £5 voucher to any passengers who make use of Aurigny's Twilight Check-in service, which applies to the early morning red eye flights (before 7.45am). They will be able to exchange these for food and drink in the departure lounge café, before flying out.
It is hoped the offer will reduce check-in queues during the busy half term period, when hundreds of islanders are expected to pass through the terminal during peak times. Weekend early morning flights are likely to be particularly busy, as islanders look to make the most of the school holiday, and with some additional flights being operated by the airlines.
With the Twilight service, anyone travelling with hold luggage on the early morning red eye flights can drop off their bags and check-in for their flight the day before they are due to fly. This can be done any time between 3pm and 8pm, and when they arrive at the airport the following day they can go straight to security with their boarding pass, avoiding any check-in queues. All passengers on the booking must attend the Twilight Check-in in person with their ID to enable them to use this service. Individuals cannot be checked-in by another member of the family or others who may be travelling together.
Guernsey Ports are offering the café vouchers from this Thursday to Sunday 31 October inclusive to encourage islanders to make the most of the service and will be giving one for each traveler checked in the day before. A family of four with four bags to check-in, for example, will receive £20 in vouchers.
It follows a similar, successful promotion during the Easter holidays earlier in the year.
Head of passenger operations and aviation security Steve Langlois said: "We always see a big increase in passenger numbers at half term, with families in particular taking the opportunity to get off the island during the school break. The check-ins and security can be very busy, particularly for the early 'red eye' services, so we are really keen to help passengers avoid lengthy queues.
"If we can encourage people to make use of the Twilight check-in, to drop off bags when the airport is much less busy, it should hopefully make things much easier for them when they arrive in the morning."
This year, as well as having the traditional busy half term schedule, there are additional winter sun flights departing too. On Saturday 23 October, Blue Islands is flying to Malaga, departing at 7.45am, while on Sunday Aurigny is operating a flight to Mallorca, which will leave at 7.30am.
Aurigny passengers who are travelling without any hold baggage can check-in online up to seven days before their flight, to save them time at the airport.
Mr Langlois said as well as check-in, the security area is also likely to be busy at peak times. It will be open from 5.45am, and passengers are being advised to arrive in good time for their flight.
"Security is a challenge for most airports, but it is a necessary requirement of air travel these days. What we aim to do is to make that process as smooth as possible for everyone, and we also ask passengers to try and help us to help them.
"Most of us are used to the requirements nowadays, for things like liquids and large electricals being carried in hand baggage. If passengers can ensure they have those separate and liquids under 100ml in a clear bag before they reach the baggage screening, that will help to avoid unnecessary delays for them and equally for other travellers. Similarly, if they are able to remove coats and other outer clothing - which a lot will have on at this time of year – before they get to the conveyors that too can speed up the process."