Guernsey Ports involvement in the NatWest International Island Games
19th July 2023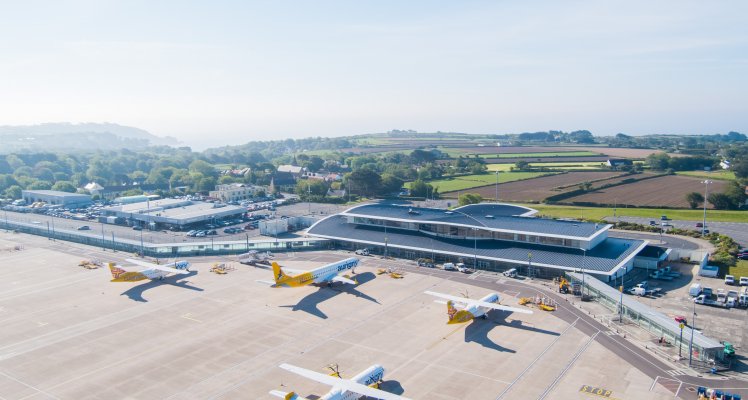 Staff from Guernsey Ports are being thanked for their hard work in ensuring the success of the 2023 Island Games.
The arrival and subsequent departure of around 2,600 competitors and officials on consecutive weekends was the culmination of months of planning between Guernsey Ports and the Games organisers.
1,749 people arrived through the airport and 757 through the harbour in connection with the Island Games, as well as supporters and any family members who joined them.
It required extended opening hours and additional staff cover to handle the successive peaks in passenger numbers, alongside all other scheduled services.
And the weather provided an additional challenge as the Games came to a close, with the cancellation of some high-speed ferry services over the weekend affecting travel plans for a number of teams at short notice.
This meant the terminal stayed open late on Friday to enable Aurigny to offer charter flights to teams who were travelling home via Jersey.
Games Director Julia Bowditch said: "We would like to extend our thanks to the Ports teams for not only getting all the teams in and out of the island, but also for offering support to those impacted by the boat cancellations at the weekend."
Guernsey Ports Chief Operating Officer Ross Coppolo said: "We worked closely with Island Games organisers, airlines, ferry operators and all other stakeholders, exploring aircraft charter options to get everyone where they needed to be at the earliest opportunity. It was a real collaborative effort, and I would like to place on record my own thanks to the harbour and airport staff, Aurigny and Condor Ferries." Friday's late finish was followed by an early start the next morning, with the airport terminal opening at 4am until 10pm to accommodate more than 30 outbound flights on Saturday.
In addition to the visiting teams, sporting equipment also had to be flown or shipped to and from Guernsey.
During the Games, local plane spotters were treated to a number of aircraft rarely seen in the Bailiwick as teams arrived from 23 islands. Air Malta and Atlantic Airways both brought Airbus A320neo planes which transported the teams from Gozo and Faroe Islands. AvantiAir flew some of the Scandinavian teams via Copenhagen, while Eastern Airways carried the Aland team direct to Mariehamn.
Guernsey Ports Head of Passenger Operations & Aviation Security, Steve Langlois, said: "Our staff have been fantastic both throughout the Games and during the many months of preparations leading up to it. They worked tirelessly to accommodate high volumes of passengers and charter aircraft with all the operational planning and delivery necessary to ensure that a very busy schedule could proceed safely, smoothly and with minimal disruption to all airport users.
"Alongside the many enthusiastic Island Games volunteers and the wider public, our teams have made sure that our visitors received a warm welcome and will hopefully leave Guernsey with plans to return in the future. I want to thank them for making such an important contribution to a wonderful Island Games experience."
Guernsey Harbours was also involved in various logistical arrangements for the Games, starting with the opening ceremony taking place along the Town Quay. Special arrangements for access to and from St Peter Port Harbour were also required for the 'Fantastic Friday' finale, which saw three sporting events take place around the seafront.
On land, Ports staff were involved in changes to parking arrangements and road closures, making sure that both competitors and spectators could enjoy the events safely and securely.
At sea, Guernsey Ports staff were involved in preparing and coordinating the triathlon relay in the harbour, in addition to the sailing events in the Little Russel, which took place throughout the week.
Harbour Master Captain David Barker said: "After many months of planning with stakeholders from across the community, it was a chance for the harbours team to see all their hard work contribute to a week that will be remembered for years to come."
"Guernsey Ports has received a lot of praise from people involved in the Games for the role we have played, and I would also like to echo their thanks. It has been a testament to the hard work of all our teams, and the extra effort that they have made alongside all the usual harbour operations, without which all this would not have been possible."