Mexico in the 2018 Guernsey Air Rally
11th June 2018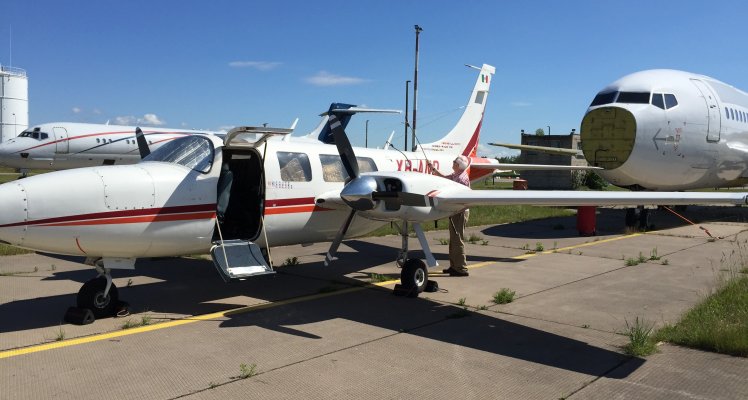 A surprise aircraft from Mexico has entered this year's Guernsey Aero Club Air Rally that gets underway from Friday 15th June to June 17th 2018. A PA60 Aerostar, registration XB - ANQ, will be attending all the way from Toluca near Mexico City.
"It was quite a surprise when the details dropped into our entries system," said Air Rally Director, Gary Elson. "We give a prize to the aircraft from the furthest home base, so I think he has that sewn up". Gary explained the aircraft is spending the summer in Sweden and the pilot is friendly with the crew of another aircraft, which is an Air Rally regular...."so the pilot, Thomas Hesselman, decided to come along too. Hopefully he will find Guernsey beautiful enough to make the trip worthwhile" added Gary.
In addition to this long distance visitor, the event will see nearly 50 aircraft arriving from airfields as far apart as Dublin, Stockholm, Lezignan in France and Eberswalde, Paderborn and Wilhelmshaven in Germany as well as the usual UK bases. "This year we also have a number of aircraft joining us from the Royal Air Squadron", Gary continued. "They are a group of aviators which includes Sir Christopher Harper, who visited Guernsey last year in order to attend the Liberation Day celebrations." Following that visit, Sir Christopher felt that Guernsey would be a perfect venue for flying visit by the Royal Air Squadron and they have decided to use our Air Rally as an excuse to drop in to the island for a few days on their way back from Belle Isle in France. We look forward to welcoming them along with around 100 other pilots and crews. "
"We are keeping our fingers crossed, as usual, for some of the weather that we have been experiencing lately," said Gary, "that is the sunshine - not the fog and thunderstorms!"
For more information please visit the rally website.
To enter click here.