New Aircraft, G-OGFC Arrives in Guernsey
17th December 2019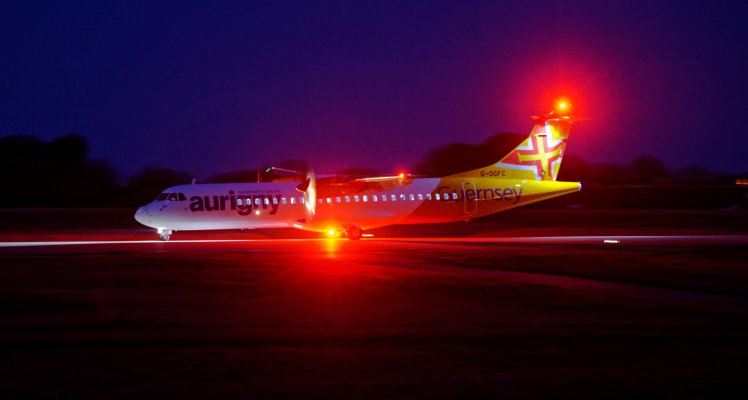 The second of Aurigny's new ATR aircraft has now arrived in Guernsey after being officially delivered by ATR in Toulouse. The aircraft sports the registration G-OGFC in honour of the islands local football team, Guernsey FC who are regular travellers with Aurigny to their away matches.
G-OGFC, touched down in Guernsey from the factory on Toulouse at 16.51 on Saturday 14th December and entered service on Monday 16th December 2019.
Aurigny's PR Manager, Jess Mauger, said: "It is really exciting to see the second aircraft arrive and to have a plane that represents our local football team further illustrates our commitment to the community we serve. The first new aircraft has been welcomed by our customers with many commenting on the improved cabin experience and the Guernsey flag on the tail."
Nic Legg, Director at GFC, said: "All the team at GFC are really excited to see an aircraft named after the team and it is just another illustration of how far the team has come in such a short space of time. We look forward to flying on the aircraft shortly and are delighted Aurigny thought of us when considering their options for aircraft registration 'names'. The unique nature of our club means we are very frequent passengers with Aurigny and seeing G-OGFC on the aircraft will feel like having an extra fan cheering us on our journey! Thanks, Aurigny."
In the New Year the aircraft will have a decal of the GFC logo near the registration to further endorse the identity of the Guernsey Football Club aircraft in the Aurigny fleet.
Photo: Nigel Le Page.