New Blue Islands service from Guernsey to London Southend for convenient access to London starts
20th May 2019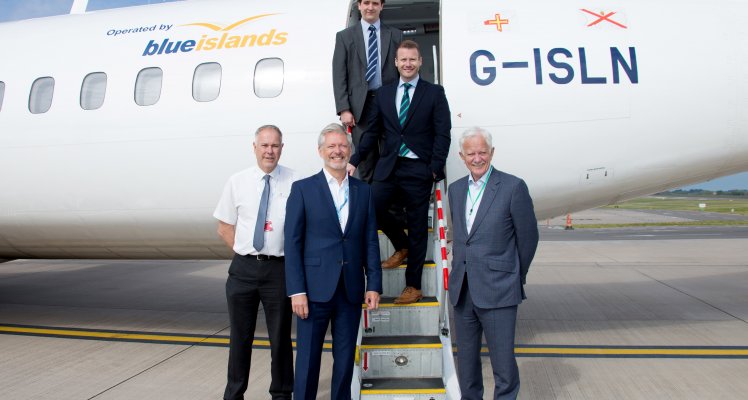 Today saw the first of three new Blue Islands operated services take to the skies as the Channel Islands based airline launched its year-round daily flights to London Southend from Guernsey.
Rob Veron, CEO Blue Islands said: "As a local business, Blue Islands recognises islanders want the lowest possible fares to London, that's why we're sustainably investing in a new link to London Southend, a growing airport suited to regional activity, challenging the vast, higher-cost, international hub airports. We're confident the convenience London Southend provides will overcome Islanders' reliance on Gatwick when travelling to London."
Mike Hopkins (Director of Marketing & Tourism for the Committee for Economic Development), Colin Le Ray (General Manager - Ports), Stuart Falla MBE (Chairman of the Guernsey Ports Board) joined Rob Veron, Blue Islands CEO and Tom Barrsin, Blue Islands CCO at Guernsey Airport to see the inaugural daily flight to London Southend Airport depart.
On arrival the Blue Islands ATR 72 aircraft was met with a traditional water cannon salute, followed by Damon Knight, Head of Air Traffic Control from London Southend Airport greeting Blue Islands CEO Rob Veron and CCO Tom Barrasin on stand.
Glyn Jones, Chief Executive Officer of Stobart Aviation, owners of London Southend Airport said "We are delighted that Blue Islands has chosen London Southend to provide a new route to Guernsey from our fast growing airport – our second new airline to arrive in May alone! With our own railway station just 100 paces from the terminal door, up to six trains an hour into London Liverpool Street in under an hour and our award-winning customer service, we expect our latest route to Guernsey to prove very popular with passengers from London and the South East."
Stuart Falla MBE said:, "Guernsey Airport is delighted to support this new route as part of a series of initiatives to encourage more air travel and I would want to thank Blue Islands for its contribution in establishing further connectivity to London."
Mr Veron continued, "London Southend Airport's own rail station enables easy onward train travel to central London, including direct services to Liverpool Street for the City and Stratford for Canary Wharf. Furthermore, low-cost carriers serving London Southend provide the opportunity for Islanders to connect to over 30 destinations across Europe including Faro, Lanzarote, Mallorca, Prague, Tenerife, Venice and many more."
Flights can be booked now at flybe.com, routes operated by Blue Islands, Blue Islands is a Flybe franchise partner.
Picture: Blue Islands.