45 aircraft and crews take part in the 2018 Guernsey Air Rally
20th June 2018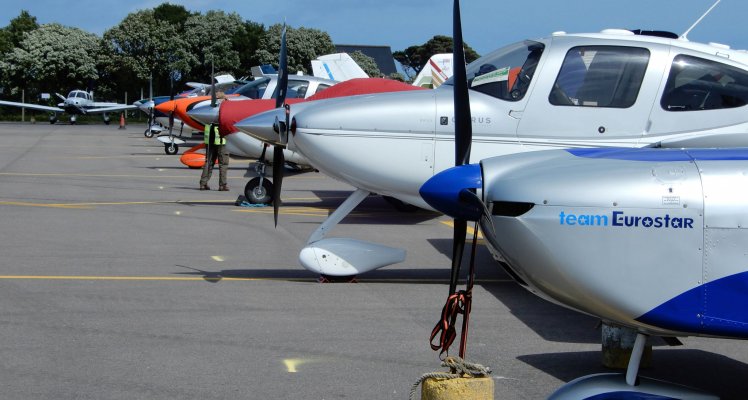 45 aircraft and crews descend on Guernsey to take part in the 2018 Guernsey Air Rally.
"The weather behaved itself long enough for us to welcome all those aircraft that had entered", said Rally director, Gary Elson. Participants flew in from France, Germany, Ireland and Sweden as well as the UK mainland. Thomas Hesselman flew his PA60 Aerostar all the way from Toluca in Mexico to be at the event and was impressed with the organisation and warm welcome. "My friends from Stockholm recommended this air rally to me and it has all been wonderful" Mr Hesselman said, "you have a beautiful island and everybody has been very friendly".
Eight aircraft from the UK's Royal Air Squadron also took part, after Sir Christopher Harper, a friend of Guernsey's Lieutentant-Governor Sir Ian Corder, planned it as part of a trip which included Belle Isle in France. Air Squadron member Terry Holloway said, "it was a fabulous rally which we all enjoyed enormously and we look forward to coming back next year".
Gary Elson added, " Our membership did a great job again in hosting some 90 visitors, with various competitions, guided walks and catering offered over the weekend. The highlight was our 'Pilots of the Caribbean' Hangar party on the Saturday, which saw a record number of fancy dress outfits from the 200 guests!
On a more serious note", he added, "visiting light aircraft are an untapped sector of the visitor economy. Those attending this weekend have spent a minimum of two nights in hotels and restaurants. They also return at other times, following their experience of the islands on this visit, and they recommend Guernsey to their fellow aviators. We have carried out a survey which suggests each aircraft is worth several hundreds of pounds to the Guernsey economy if they stay the night".
Picture: Guernsey Aero Club