A highly unusual wedding, courtesy of Aurigny
19th July 2016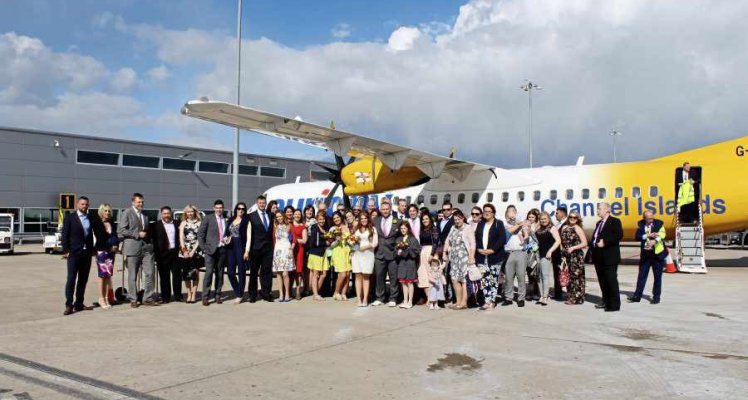 An Aurigny aircraft and its crew are the stars of the first episode of the new series of "Don't Tell the Bride" on Sky One, this Thursday, 21st July, at 9pm. The airline's ATR 72 G-VZON is the unusual setting for a marriage blessing between Adam Ledner and Bianca John in the skies high above the West Country.
Aurigny was approached by email by Adam earlier this year to ask if the airline could lease them an aircraft and crew for the ceremony. Aurigny's CEO, Mark Darby, says: "We discussed the request and agreed that this was both a fun thing to be involved in and a great way of promoting the Aurigny brand across the UK and beyond."
The programme's production team came to Guernsey in the early spring to film the scenes where groom Adam Ledner and his best man and twin, Alec, decided that the wedding should take place aboard an Aurigny aircraft, flying out of Bristol. Aurigny advised the production company that an ATR 72 could be freed up for several hours on a Saturday in spring, so the wedding date was fixed for 30th April.
Aurigny's Media Relations Manager, Euan Mahy, acted as the civil celebrant who pronounced the couple "married" at 17,000 feet. He says: "Everything had to be kept secret because Bianca and the guests who joined us at Bristol Airport genuinely didn't know what was happening. Many of them thought they were going to Spain." Instead, after climbing to cruising altitude, Adam and Alec came to the front of the aircraft and Bianca walked up the "aisle." Euan continues: "When I joined Aurigny I never imagined that I'd have to act as a civil celebrant, blessing a couple in the skies over Exmoor in front of TV cameras! The ceremony and flight went smoothly and the guests were delighted by the novelty Aurigny venue that Adam had chosen for his wedding to Bianca. After the vows, our crew served everyone with chilled Prosecco or orange juice."
The programme airs on Thursday 21st July, at 9pm on Sky One.