Air services to Edinburgh and England's South Coast from Guernsey take-off
14th May 2019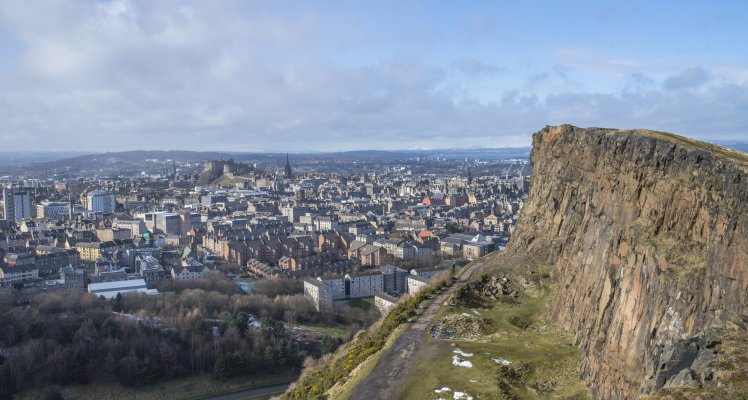 Flights to two new destinations from Guernsey have officially taken to the skies, as Loganair's direct services to Edinburgh and Bournemouth celebrated their inaugural departures (Saturday, 11 May).
The Scottish regional airline has launched a weekly Saturday service to Scotland's capital city, as well as England's South Coast – aboard its fleet of tartan branded 37-seat Embraer 135 Jets.
It is also operating a Tuesday service between Edinburgh and Guernsey, enabling three night short breaks during the infamous Edinburgh Festival Fringe.
Only a 40-minute flight away, customers to Bournemouth set-off at 10.45am, with the return service departing the South Coast at 11.55am. Meanwhile, Guernsey residents can be in Edinburgh one hour and 35 minutes after take-off, leaving the Channel Island at 11.50am and returning at 9.45am the following week.
Inbound Edinburgh customers can also connect to Loganair's extensive network across Scotland's stunning Highlands and Islands, transferring onto services to Shetland, Orkney or the Outer Hebrides – exploring the country's most remote island destinations.
Edinburgh itself is a beautiful city, featuring a medieval old town, impressive castle and encapsulating winding streets - living up to its nickname of the 'Athens of the North'. Visitors can spend time in world-class museums, its famous zoo or sampling Scotland's extensive selection of whiskies.
Bournemouth boasts a seven mile stretch of unspoilt coastline, which includes the UK's best beach – crowned by TripAdvisor's Travellers' Choice awards for the second year in a row. Visitors can enjoy outdoor pursuits or water-based sports including surfing, paddle-boarding and jet-skiing. Meanwhile the wider South Coast region is home to picturesque towns and villages as well as beautiful countryside- with plenty to offer holidaymakers.
All of Loganair's fares include 20kg of complimentary luggage allowance, as well as onboard refreshments and a 33% discount for children up to the age of 11 years old.
Jonathan Hinkles, Loganair's Managing Director said: "We're delighted to be growing our presence in Guernsey building upon the successful launch of our route to Glasgow last year. Edinburgh was a natural addition this summer, providing access to the East Coast of Scotland and further onward flight options to the Scottish Highlands and Islands.
"We're confident the new service to Bournemouth will also be welcome news for islanders with friends and family living on the south coast."
Gordon Dewar, Chief Executive of Edinburgh Airport said: "We're excited to see the introduction of Guernsey with Loganair, connecting our magnificent capital city to one of the most scenic Channel Islands.
"We can't wait to wave off families heading to Guernsey on that well-earned holiday and looking to relax on the beach, and we're also looking forward to welcoming people to Edinburgh and showing off what the city is famed for – history, architecture and fun."
General Manager - Ports, Colin Le Ray said: "Guernsey Airport is delighted Loganair will run its new Guernsey to Edinburgh and Bournemouth routes for 2019, and is also continuing with the Guernsey to Glasgow International service. These destinations now give people in Guernsey and visitors more choice during the summer months. These new routes show Guernsey Airport's drive of fully supporting new services and carriers is working, and we look forward to helping Loganair develop its presence in Guernsey for 2019 and beyond."
Stephen Gill, Bournemouth Airport's managing director, said: "We look forward to providing a warm welcome to Guernsey passengers flying to and from Bournemouth this season. It's great having Loganair as the latest carrier to Bournemouth Airport, providing new routes to the Channel Islands for leisure and business."
Lead-in fares between Guernsey and Edinburgh are £74.99, with fares to Bournemouth on sale from £46.99
Reservations for the routes can be made online at www.loganair.co.uk or by calling 0344 800 2855.