Are You Ready For Take Off?
21st September 2018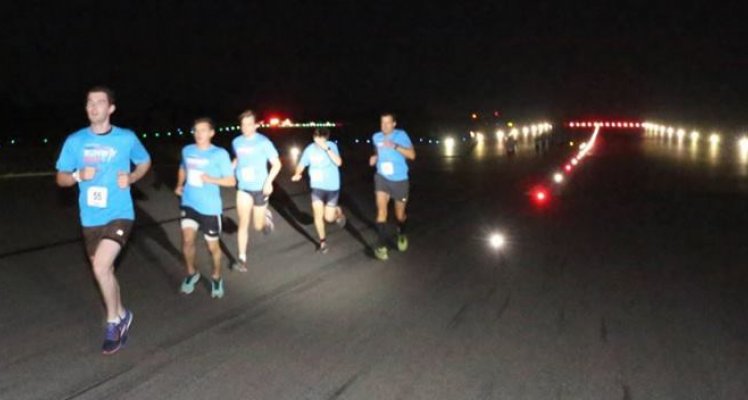 The 2018 Crimestoppers Runway Run is on Saturday (22nd Sept) at Guernsey Airport! Make sure you check in on time and don't forget anything important (don't worry you can leave your passport at home!) we've put together this bullet point guide. A full briefing has been sent to you via e-mail so make sure you read that before you head to the runway on Saturday!
• Please 'check in' at the Guernsey Aero Club between 9.30pm and 10:45pm on Saturday – don't be late!
• Please don't park at the Airport or go to the passenger or cargo terminals. Forest Primary and Le Rondin Schools have kindly agreed their car parks can be used and we would encourage runners to share lifts.
• Whether you are running as an individual OR as part of a team, you will need to register at the Guernsey's Aero Club - corporate team members downstairs, individuals upstairs. At registration you will be given your T shirt and running number. You will then need make your way to the Channel Islands Air Search hangar by 10.50pm for an important race briefing. You will be greeted with music and marshals will direct you.
• Please bring a print out of your Eventbrite ticket and some cash (for an exclusive raffle and valuables bag with all proceeds going to Channel Islands Air Search).
• Please do not transfer or sell tickets as this will invalidate entry. We reserve the right to ask security questions at registration and may refuse entry. The purchaser is responsible for their ticket(s).
•Please don't take any electronics including headphones and mobile phones, water bottles or safety pins onto the runway. You can purchase a valuables bag from Channel Islands Air Search for £1 and they will look after your items while you run!
• Due to the inherent costs of organising this event and the required registration process, the Charity is not in a position to make any refunds. We are very sorry. Alternatively, if you cannot attend and would like to kindly donate your ticket for the benefit of both
Crimestoppers
and Channel Islands Air Search, please contact us.
• Flights and weather permitting we hope to start the run at 11.00pm.
• We aim to make the winning presentations as soon as possible after the race.
• We'll do the raffle (lots of great prizes on offer including free return flights, champagne and vouchers!) and there will be a DJ playing some great music.
• You can head to the Guernsey Aero Club bar for a drink – it closes at 12.45am. This Event could not take place without the support of Guernsey Airport, Channel Islands Air Search, The Guernsey Aero Club, our sponsors, the local schools, Guernsey Civil Protection, and St John Guernsey, and our own large team of valued volunteers and you!
If there is any change to the plan for the event we will contact runners via e-mail, post on our social media channels and update the local media. We've got our fingers crossed for a dry, clear night on Saturday and we look forward to seeing you on the runway!
Picture: Guernsey Runway Run.