Aurigny announces the appointment of its new chair and non-executive director
21st April 2016
Aurigny is delighted to announce that it has appointed Andrew Haining as its new chair and Meriel Lenfestey as a new non-executive director. Andrew Haining takes over from Jon Moulton, who's led the Aurigny board for the past four years. Meriel Lenfestey strengthens the composition of the board as an additional non-executive director. Both have a wealth of business experience and both live in Guernsey. Andrew Haining is a Cambridge graduate who has spent his career in private equity after working initially for Bank of America. Meriel Lenfestey gained a Masters from the Royal College of Art and worked for Microsoft and the BBC before setting up her own digital design consultancy. She is a non-executive director of, amongst others, JT and Startup Guernsey.
Andrew Haining says: "I'm delighted to have been appointed as the chair of Aurigny and I'm sure it will be a fascinating and challenging period of my life. I'd first though, like to record my thanks to Jon Moulton for his strong leadership of the company. My background is also in private equity and through that I have had experience of chairing or sitting on a variety of boards in different sectors. Continuing to improve the offering for the customer, be they business or leisure, local or from the UK or elsewhere, is key to the health of not only Aurigny but also the island's economy and makes this job such an interesting and important one. To deliver this, the staff are fundamental to Aurigny's success and over the coming months I will be getting around the business and meeting as many Aurigny staff as possible. It's their commitment that makes Aurigny award winning and such an asset to the islands that it serves."
Meriel Lenfestey says: "My appointment to the Aurigny board is an exciting opportunity to be part of a company that's essential to island life. The investments made during Jon Moulton's tenure provide many opportunities for excellence. I look forward to applying my expertise in customer experience and technology to help Aurigny provide the best possible service in the future."
Mark Darby, the CEO of Aurigny says: "I'm delighted to welcome Andrew and Meriel to Aurigny. Both bring a variety of experience and strong skill sets that will help the airline evolve and deliver excellence over the coming years. Jon Moulton deserves Aurigny's thanks for his work over the past four years. Under his direction, Aurigny moved into the jet age and the purchase and introduction of the Embraer 195 were achieved quickly and smoothly. Jon also drove the Trislander replacement programme to ensure that we moved to modern aircraft to run the Alderney and Dinard routes."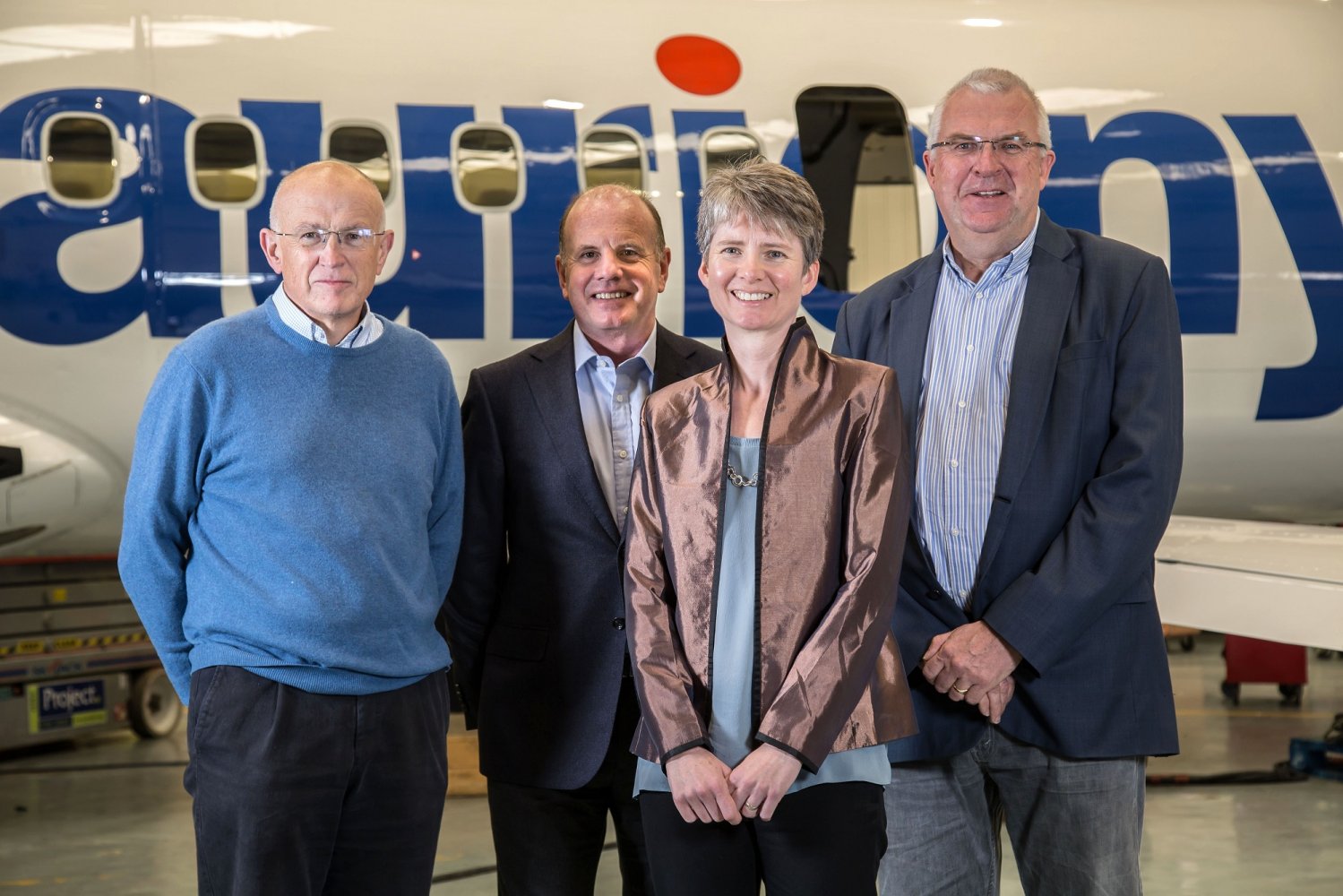 L-R Outgoing chairman Jon Moulton, new chairman Andrew Haining, new non-exec director Meriel Lenfestey and CEO Mark Darby.