Aurigny Schedule changes – but book with confidence!
7th September 2020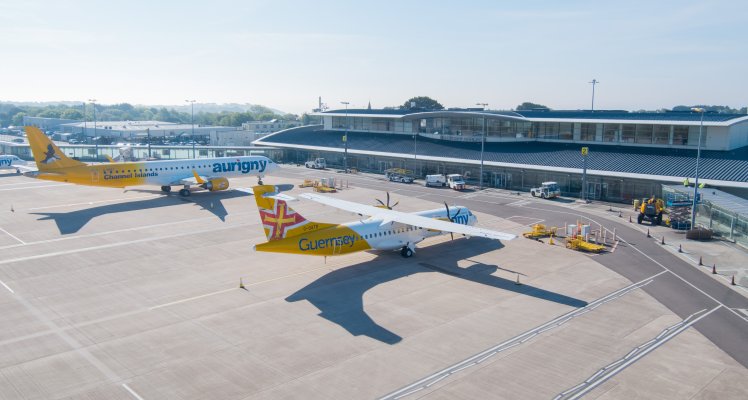 Following the last States briefing where it was announced that self-isolation requirements would remain until at least October, Aurigny are, in consultation with the States, making the following changes to its planned schedules:
• On the Guernsey-Southampton-Guernsey 'lifeline' route, there will be double daily services on weekdays. There will also be Saturday and Sunday services for the first time since early April – all with effect from 21st September.
• Postponing the reintroduction of a broader range of services across its network until Monday 12th October.
• Maintaining the lifeline link between Alderney and Guernsey – matching the number of services with demand (in support of the 'Staycation' boom that Aurigny has been supporting throughout this summer).
Aurigny have announced its "Book with confidence" scheme this week.
Schedule changes:
Aurigny have had to make the regrettable decision to delay the reintroduction of a wider range of services as the inbound self-isolation requirements are still proving to be too much of a barrier to travel and commercially there is insufficient demand to warrant offering flights to other destinations. Whilst no further guidance on a date for Phase 5C has been given by the States of Guernsey, Aurigny are making these changes to help customers with future bookings make alternative arrangements. It is important to note that should a significant change in the self-isolation requirements be announced by the States (earlier or later) Aurigny would review changes to its schedule and could change the date for the reintroduction of a wider range of destinations.
During the pandemic Aurigny have been as financially prudent as they could be and have made cost savings by reducing staff salaries, placing many of its staff on furlough, and shutting down stations whilst remaining operationally ready to resume normal services. This remains the case and should demand or restrictions change we can launch a more comprehensive schedule sooner and at short notice. The financial burden of operating to more than one mainland UK destination when demand is
insufficient must be considered, for example un-furloughing staff in Gatwick to provide a skeletal service is just not financially sensible.
Following public demand for flights to other destinations to support students going to the UK, we have added two return flights to Manchester after a survey asking when and where people would like to travel. All four sectors remain under half full, with the busiest flight carrying 31 passengers on our 72-seater ATR and the others carrying just 24, 18 and 16 customers.
Whilst these flights have gone ahead, it is not financially viable to continue to operate services with loads of 28% and lower, so continuing the Southampton service, which is also a necessity for our medical connectivity is the logical solution.
Book with confidence!
Due to the continuing uncertainty over travel, both to/from Guernsey but also the frequent changes in the Covid-19 status of other destinations causing changes to our customer's travel plans, Aurigny is introducing a "Book with confidence" scheme that will enable its customers to cancel their
bookings and receive a travel voucher for future use, regardless of their reason for cancellation. This will apply to all existing bookings and further booking made up to 31st March 2021 for any travel date in 2020 or 2021.
Further details of this policy will be announced on Aurigny's website over the next few days, so please avoid calling its customer services regarding 'Book with confidence' at this time.

Mark Darby, Aurigny Chief Executive said:
"The impact of Covid-19 on our business over the past six months has been catastrophic. Passenger numbers are significantly down with 250,000 fewer passengers being carried between the 1st of March and the 31st of August than in the same period as last year (excluding IOM). Since March we have had to be agile – making frequent changes to our plans in response to the latest news and status of the self-isolation requirements – which has, for understandable reasons been a continually moving target. Unfortunately, it's just not commercially viable to run the more comprehensive schedule that we had planned until demand increases or the self-isolation requirement period is reduced, and both are inevitably interconnected. We are launching our "Book with Confidence" scheme to make it easier for our customers to book air travel with us – but knowing that if they need to change their plans at short notice they can do so without penalty."