Aurigny Schedule to the end of Half Term includes London Gatwick and the Isle of Man
28th September 2020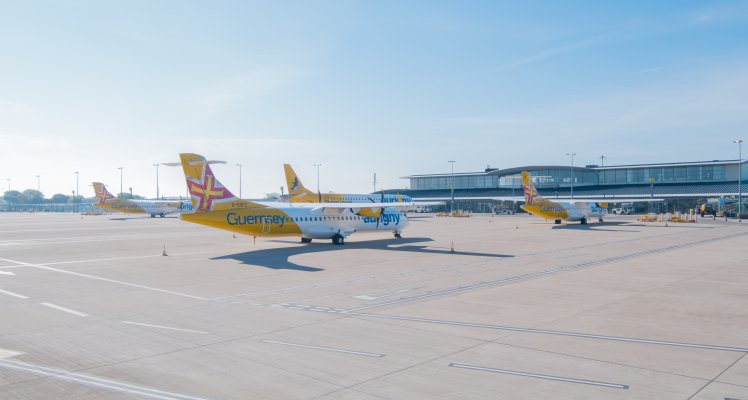 Following the huge success of Aurigny's Isle of Man services during the summer, for islanders wishing to enjoy a short break over half-term without the need to self-isolate the airline is delighted to be able to offer flights to the Isle of Man again as part of an 'air bridge' agreed by both island Governments. These will initially operate on the 24th, 28th and 31st of October to cater for 3, 4 or 7 night breaks in either direction during the half term school holidays. If demand for these flights is high Aurigny will be able to add additional flights.
Aurigny's Alderney schedule will remain unchanged and also offers customers the opportunity for an isolation-free holiday. Again, if demand for these services is high given the popularity of 'Staycation's', the airline can put additional services on sale.
Aurigny undertakes a weekly review of services using the current self-isolation guidelines and booking demand as a gauge, prior to deciding whether to go ahead and operate or cancelling services. Having reviewed the current situation and continuing very low levels of demand for tickets we are now in a position to announce revisions to our schedule covering the last two weeks in October including the forthcoming half term holidays.
Demand for air travel has been further depressed as travellers arriving from a number of areas of the UK and many key European countries are now required to self-isolate for 14 days. Within the UK this includes travel from London, a large part of northern UK, Scotland and Wales. With the UK now clearly experiencing a second wave we expect demand for travel to further reduce. Therefore, Aurigny are going to be cancelling the majority of our UK regional flying programme between the 19th October 2020 and 1st of November 2020.
However, Aurigny also understands that current restrictions are not a barrier to everybody, and some people still wish to travel regardless of the restrictions. The volumes of bookings still active on on London Gatwick services suggest quite a few people are in this position and to meet their needs we are going to still be operating some Gatwick flights over the half-term period. These services will commence from Thursday 22nd of October for 3 days and then to facilitate return customers from Friday 30th of October for 3 days. Its Southampton service remains unchanged and will continue to operate as per the advertised schedule.
Until further notice, Aurigny will waive cancellation charges on any bookings cancelled at least two days before departure, regardless of the reason for cancelling. For further information please visit the carrier's website.
Aurigny's full schedule is available online via its website www.aurigny.com