Aurigny update – consolidating its Alderney route schedule
23rd March 2020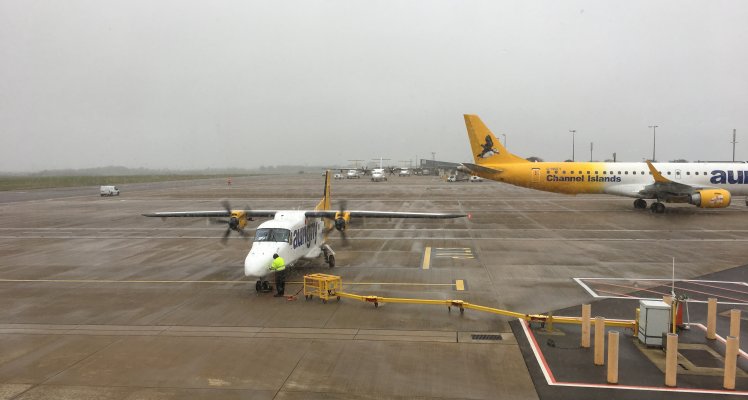 Following stricter border controls being introduced in the Bailiwick and the States of Guernsey advising that all non-essential travel must stop with immediate effect, and that anyone returning to the island on ANY of our flights from ANY destination (excluding only Alderney) are now required to self-isolate for 14 days. Aurigny have reduced their schedule to and from Alderney.
This schedule will run for travel up to and including 31st May 2020, but is subject to change, due to the evolving situation. The carrier is seeing reductions in demand every day and that the schedules we are issuing may change again at short notice. These are unprecedented conditions and we are review our flying programme on a daily basis.
The Alderney schedule up to the 31st May 2020 has 2 flights Mon-Fri and 1 on Sat and Sun.
| | |
| --- | --- |
| ACI - GCI | DAYS |
| 1030 - 1050 | 123456. |
| 1755 - 1815 | 12345.7 |
| | |
| GCI - ACI | DAYS |
| 0945 - 1005 | 123456. |
| 1715 - 1735 | 12345.7 |
No Alderney - Southampton flights from today (23rd March 2019) except for 1 flight on the 26th and 1 on the 29th.
If you now would like to cancel your booking:
From 16th March 2020, you may still receive a full refund if you cancel, but this will now be in the form of a credit voucher valid for one year. You will need to cancel your booking using the "manage" section on our website then send an email to [email protected] with your booking reference asking for a refund. We will then issue you a credit voucher for future use, please be aware that we will process this as quickly as we can, but it may take several weeks to process.
In exceptional circumstances Aurigny will consider a monetary refund for those who will have no use for a flight in the future. In this instance please e-mail [email protected]
Please note: Aurigny would ask our customers to be patient in these exceptional circumstances as it may take between 3 and 6 months to process your claim.
IMPORTANT DETAILS:
Aurigny will do its best to maintain this revised schedule for at least 48 hours after any further Government instructions, but in this current climate we are unable to guarantee this.
Please do not call Aurigny's call centre if possible as they are experiencing a high demand in calls.
As ever, Aurigny's main priority is the wellbeing of its customers and staff. We would especially like to thank those staff working in our call centre over the past week, who have dealt with an unprecedented number of calls due to exceptional circumstances.
Picture: Guernsey Airport.