Aurigny update – consolidating its schedule
19th March 2020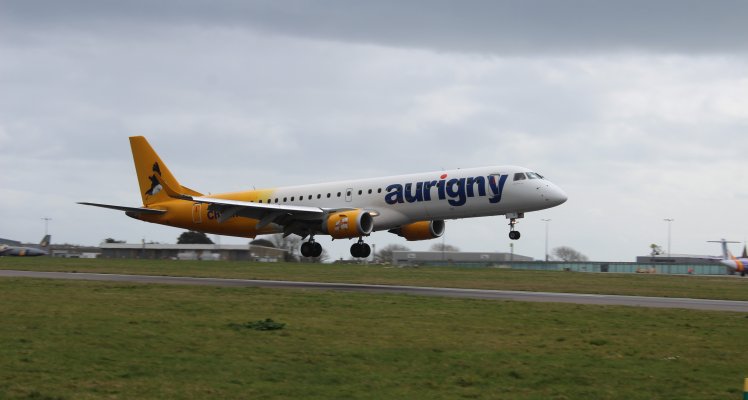 Following stricter border controls being introduced overnight in Guernsey and the States of Guernsey advising that all non-essential travel must stop with immediate effect, and that anyone returning to the island on ANY Aurigny flights from ANY destination (excluding only Alderney) are now required to self-isolate for 14 days, Aurigny are going to be reducing their schedule and offering a revised timetable from, 05.00 on Saturday 21st March 2020.
This schedule will run for travel up to and including 19th April 2020, but is subject to change at short notice due to the evolving situation.
CUSTOMERS ARE ASKED TO READ FULL INSTRUCTIONS BELOW AND NOT TO CALL OUR CALL CENTRE UNLESS ADVISED TO DO SO.
Revised schedule from Saturday 21st March 2020.
For the period 21st March to 19th April, Aurigny is suspending services to Birmingham, Bristol, East Midlands, Exeter, London Stansted, and reducing the frequency of services to London Gatwick, Southampton and Manchester. Please note that this is a temporary measure to reduce costs in this unprecedented period of low demand. We are hoping to resume normal services for the busy summer period and are presently planning for suspended routes to be reintroduced on the 20th of April. This recommencement date will be regularly reviewed and may be adjusted in accordance with demand for travel. Regular notices will be issued about our plans and timetable.
If you are travelling over this coming weekend 21/22 March, you should already have received a message if your flight has been changed.
The planned schedule from 23rd March to 19th April is detailed below:
London Gatwick Service: Aurigny will be running twice daily flights as follows. In the event that Auirigny has to further reduce its schedule, the flights in bold will be the only London Gatwick services offered.
GR604 – Guernsey to Gatwick – Departing at 10.20
GR605 – Gatwick to Guernsey – Departing at 11.50
GR606 – Guernsey to Gatwick – Departing at 14.50
GR607 – Gatwick to Guernsey – Departing at 16.30
Southampton: We will be running daily services as follows:
GR656 – Guernsey to Southampton – Departing at 14.40
GR657 – Southampton to Guernsey – Departing at 15.55
Manchester: We will be running daily services as follows:
GR670 - Guernsey to Manchester – Departing at 1040
GR671 - Manchester to Guernsey – Departing at 1235
Aurigny appreciate these are exceptional times and some passengers may choose, or be obligated, to change or cancel their flights.
Aurigny Flight bookings before 20th April 2020
If you now would like to cancel your booking:
From 16th March 2020, you may still receive a full refund if you cancel, but this will now be in the form of a credit voucher valid for one year. You will need to cancel your booking using the "manage" section on our website then send an email to [email protected] with your booking reference asking for a refund. Aurigny will then issue you a credit voucher for future use, please be aware that we will process this as quickly as we can, but it may take several weeks to process.
If you have a reservation to travel on a flight to or from Guernsey on or before the 19th of April and your flight has been cancelled or changed by Aurigny:
You will be rebooked onto a different service and you will be sent these details by email with the options to accept the changes, reject the changes or cancel the whole booking. Selecting "reject the changes" will give you further options.
In exceptional circumstances we will consider a monetary refund for those who will have no use for a flight in the future. In this instance please e-mail [email protected]
Aurigny is asking customers are patient in these exceptional circumstances as it may take between 3 and 6 months to process your claim.
IMPORTANT DETAILS:
The situation is changing very quickly, and Aurigny are obliged to follow Government advice. Should we have to reduce services further or offer only one lifeline route then the flights GR606 and GR607 to and from Gatwick will be the last flights to be cancelled.
Aurigmy will do its best to maintain this revised schedule for at least 48 hours after any further Government instructions, but in this current climate the carrier is unable to guarantee this.
Please do not call Aurigny's call centre if possible as the carrier is experiencing a high demand in calls.
Picture: Guernsey Airport