Bailiwick Bar & Kitchen officially opens
22nd July 2019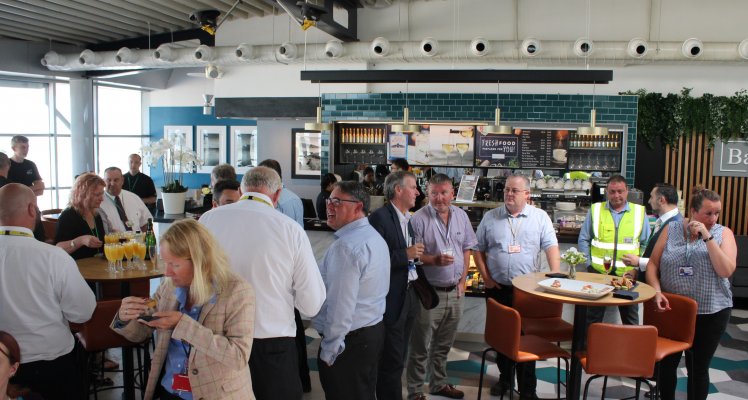 Bailiwick Bar & Kitchen is now officially open for business, following a successful refurbishment of Guernsey Airport's food and beverage outlets both landside and airside.
For the last four weeks, work has been undertaken to install enhanced dining facilities, new kitchens and modern food preparation equipment into the two units. This will enable an enhanced food and drink menu range for travelling passengers and other airport users, and provide a contemporary space for customers to relax.
Customers can now enjoy a range of classic menu choices throughout the day including hearty cooked breakfasts, pizzas and burger options. There will be a selection of vegan and vegetarian options, as well as sweet treats on offer.
A specially curated drinks menu will be available, including a large selection of local and well-known branded alcoholic and non-alcoholic drinks.
The new offering can be fully enjoyed by travellers that have proceeded through to the departure lounge, and by customers that are not necessarily travelling from the landside café located upstairs in the terminal building.
Bailiwick Bar & Kitchen will also provide a range of catering service packages to augment the high-quality conference and training room facilities already available at Guernsey Airport.
Commercial Manager – Ports Doug Wright said:
"Creating Bailiwick Bar & Kitchen has been a substantial investment from our food and beverage operator. We believe airport passengers and terminal users will welcome this transformation of our cafes. Customers using both cafes will now see a considerable change in the food offer and menu choices. We are also particularly pleased with the design choices for the cafes in the terminal, which will improve the overall dining experience at Guernsey Airport and would be befitting any modern Airport. There has been good use of the space available and behind the scenes, the kitchen facilities and equipment have now been upgraded. Caterleisure (Guernsey) Limited has worked hard in delivering these new eating experiences and Guernsey Airport is delighted to be working alongside them and we look forward to a successful venture. We'd also like to thank passengers and airport users for their patience whilst the building works have taken place."
Louise Hodgson Development Director at Caterleisure (Guernsey) Limited which operates Bailiwick Bar & Kitchen at Guernsey Airport said:
"We are delighted to open Bailiwick Bar & Kitchen at Guernsey Airport. We are immensely excited to be able to welcome a range of customers, including local residents and their families, the local business community, and of course, air passengers. We have developed a new food and drink range and choice with passengers and airport users in mind, with emphasis on quality and efficiency of service. We look forward to welcoming our new and existing customers to Bailiwick Bar & Kitchen at Guernsey Airport."
Picture: Guernsey Airport.