Blue Islands – Important Booking Information
9th March 2020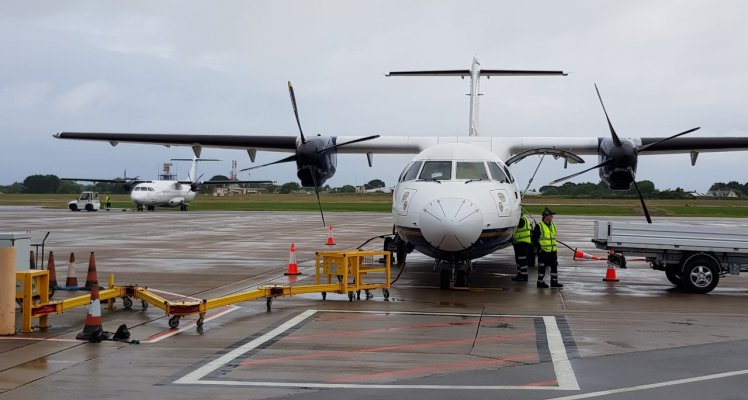 Blue Islands is reminding passengers who had booked a Blue Islands operated service via Flybe will need to rebook their travel on www.blueislands.com. This applies to all passengers who had flights booked for 10 March onwards.
Despite sustained efforts by the airline to avoid this consequence, customers will need to rebook flights. Passengers who are being asked to re-book their flights must do so because all funds for all future Blue Islands operated services made via Flybe are being withheld by Flybe's merchant card acquirers. These controls were put in place to safeguard consumer funds in the event of Flybe's collapse and means that customers can seek a refund on their original booking.
However, Blue Islands has, as a temporary measure applied fixed, mid-range single fares (all of which include 23kg baggage). Further booking options and arrangements will become available over the coming weeks.
The Chief Executive of Blue Islands Rob Veron said: "We apologise to our customers for asking them to make and pay for a new booking. This was something we have been working very hard to avoid, but to ensure business continuity and because we do not have full visibility of previous bookings, we have no alternative but to ask passengers to rebook. We also acknowledge that some customers will face paying more to rebook than their original ticket price. Despite our best efforts, this has been unavoidable, and we apologise to those passengers. Many customers will pay less, and many customers will benefit more from this fixed price versus the usual dynamic pricing model. We are in an unprecedented situation and have worked tirelessly since Wednesday last week to find solutions that benefit the maximum number of people affected. I would like to thank customers for their understanding, and our team for their amazing hard work over the past few days and nights."
Those travelling on Monday 9 March do not need to rebook and should go to the airport and check-in as normal, Blue Islands will honour these flights without further payment.
Customers should refer to the UK Civil Aviation Authority website for further information, or contact the credit/debit card company that was used for payment. In some instances, banks are proactively contacting customers who they know booked with Flybe or have information on their websites offering more information about refunds.
Blue Islands is engaging with the administrators of Flybe regarding bookings and if this situation changes, the airline will update passengers.
The Blue Islands team is working tirelessly to continue to operate a robust reliable service, has restored booking functionality on www.blueislands.com and is working quickly to do everything possible to ensure a seamless service and minimise disruption or inconvenience to its customers.
Passengers can book all new flights online at www.blueislands.com.
Picture: Guernsey Airport.