Blue Islands celebrates 10th birthday
16th February 2016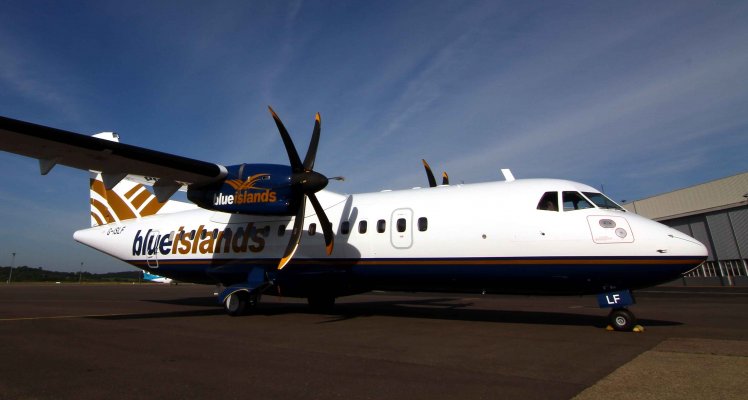 Blue Islands celebrates its 10th birthday this year, as the airline marks a decade of operating flights between the Channel Islands and to the UK from its bases in Guernsey and Jersey, since launch in February 2006.
Rob Veron, Blue Islands' Managing Director said "Since Blue Islands started flying in 2006 we have carried over 2 million passengers. In 2006, we carried 63,500 passengers per year, this year we forecast to fly a total of 380,000 passengers – that's a staggering increase of 500%! Of course we've invested in a larger fleet, our routes and employees, enabling a 300% capacity increase; from 132,000 seats in 2006 to 520,000 this year.
"These numbers demonstrate how far we have come in 10 years, and should the proposed Flybe franchise proceed it would mark another milestone in the development of Blue Islands. We are proud to be a locally owned airline and are totally committed to serving the Channel Islands. This growth has significantly contributed to the Channel Islands economy, directly through the taxes and charges paid and indirectly supporting a wide range of sectors through the supply chain from flight support to hospitality and not forgetting the employment opportunities this generates, a true economic enabler; of our own independent means."
Having signed a Memorandum of Understanding with Flybe, Blue Islands is currently exploring becoming its third franchise partner.
Blue Islands started initially in 1999 under the name of Le Cocq's Airlink, supplying perishable goods to Alderney from Bournemouth, with scheduled passenger services introduced on the route in 2002. The company was branded Rockhopper in 2003, before becoming Blue Islands in 2006, and coincided with the delivery of its JetStream aircraft. 2009 saw the airline's first ATR aircraft, which was at the cornerstone of the new management team's strategic plan in 2011 to migrate to an all ATR fleet, subsequently achieved in 2014. Blue Islands branding could be replaced by Flybe livery from May this year, if the agreement with Flybe goes ahead to become a franchise partner.
Mr Veron added "We would like to sincerely thank all of our customers for their support over the last 10 years and we look forward to welcoming customers, old and new, onboard soon."