Blue Islands Summer 2021 schedule launched
1st September 2020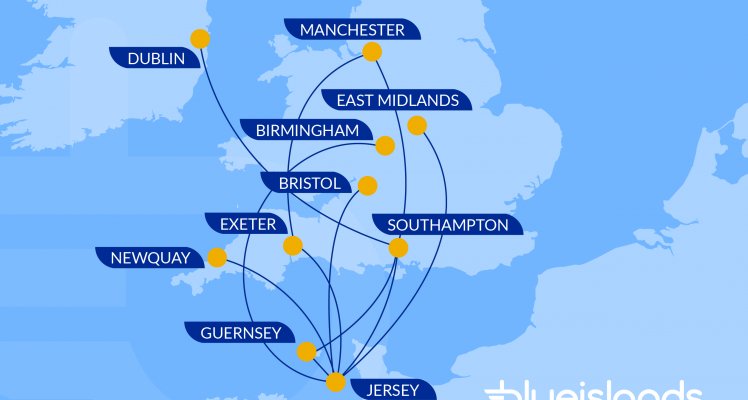 Blue Islands' summer 2021 flights are now on sale, providing high frequency regional connectivity between the Channel Islands and to the UK, plus services within the UK connecting the South and South West to the North and to the Republic of Ireland.
And if you book your summer 2021 flights by Friday 4 September 2020 and choose our flexible Blue Plus fare, we will give you Double points in our new Blue Skies Club frequent flyer programme, see www.blueIslands.com/summer for full details.
Our flexible Blue Plus fare already gives you double hold luggage allowance (2 x 23kg), free seat choice, flexibility if plans change, and double frequent flyer points. This bonus doubles it again, adding an extra 1,000 points for each adult return journey.
Rob Veron, Blue Islands CEO said, "Blue Islands' summer 2021 schedule sees high frequency services across its network including Jersey – Exeter flights together with double daily Jersey - Bristol and up to four flights per day to Southampton to facilitate same-day return options. From Guernsey, the airline will operate inter-island services to Jersey, direct services to Southampton and offer connections via Jersey to other destinations on the Blue Islands network including Bristol and Birmingham. 2021 will also see the return of Blue Islands' summer Newquay service. The bonus points promotion gives an added incentive to try our great value flexible Blue Plus fare too. Our new schedules and the return of our Welcome Difference service is designed to make regional air travel easy and fun again."
In addition to Channel Islands services, the airline is also operating flights in the UK including Exeter – Manchester, Southampton – Manchester and Southampton – Dublin services.
Channel Islands – summer 2021 flights from 28 March

Jersey to:

Guernsey

Up to 5 times a day

Southampton

Up to 4 times a day

Bristol

Up to 2 times a day

Exeter

Daily

Newquay

3 times a week

Birmingham

Up to 2 times a day

East Midlands

Daily

Guernsey to:

Jersey

Up to 5 times a day

Southampton

Up to 5 times a day

Bristol

(via Jersey)

Birmingham

(via Jersey)

Newquay

(via Jersey)
Summer 2021 flights are available to book now at www.blueislands.com/summer
Picture: Blue Islands.