Festive travel tips for the holiday season
19th December 2018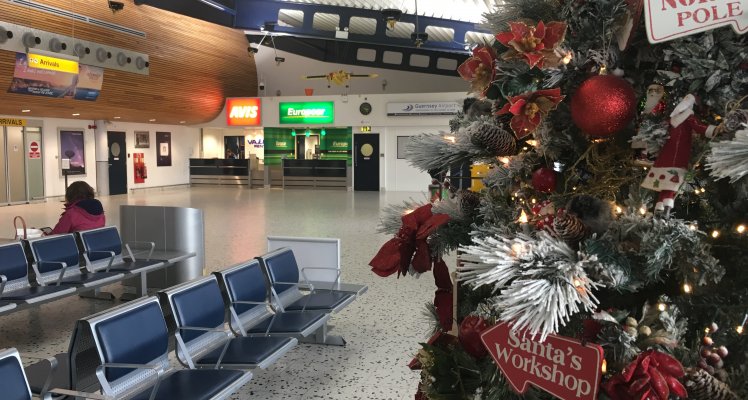 Passengers travelling out of Guernsey and Alderney Airports this festive season are reminded to try to pack for a smooth journey through both airports. Knowing what can and cannot be taken in hand or hold baggage will save you time, and inconvenience, and make your journey more enjoyable.
Wrapped Christmas presents in hand luggage are not exempt from the current aviation security measures. Wrapped presents will be searched and may possibly have to be opened by Airport security staff. We advise passengers who are travelling with gifts in hand luggage to leave them un-wrapped for the duration of their journey. Any wrapped presents could however be checked-in as hold baggage only.
Any wrapped presents in liquid form and base (e.g. perfume, alcohol, pastes, gels, creams, liquid based condiments) measuring up to 100ml will be opened during security screening. Any liquid gifts measuring over 100ml must be placed in checked-in hold luggage.
Please do not carry party poppers and sparklers in your hand or in checked-in hold baggage, these items are not permitted on the aircraft.
Aurigny, Blue Islands/Flybe all allow Christmas crackers to be carried in your checked-in luggage, but this is restricted to one sealed box of 12 crackers per passenger and the crackers have to be in their original retail packaging unopened. Homemade crackers are not permitted.
As a reminder, Aurigny's Twilight check in desks are open at Guernsey Airport between 6.30pm and 8pm every night. Passengers who have reservations for the following day's 0650 Manchester and 0700 London Gatwick departures need to bring their ID and hold luggage to check them in. If more than one adult is travelling on the booking, they will also need to be present with their ID and baggage. Any under 16's that are travelling in their party do not need to be present.
Passengers who require any assistance into and out of Guernsey and Alderney Airports should book any help needed with their journey through their airline, with a minimum of 48 hours' notice before you are due to travel. Anyone who requires a sunflower lanyard for those who would like extra assistance should ask for one at the Guernsey Airport information desk.
We hope you have a smooth journey to your onward destination this festive holiday season, and hope this advice, will help you start your festive break smoothly.