First Aurigny ATR-600 taking shape
1st May 2019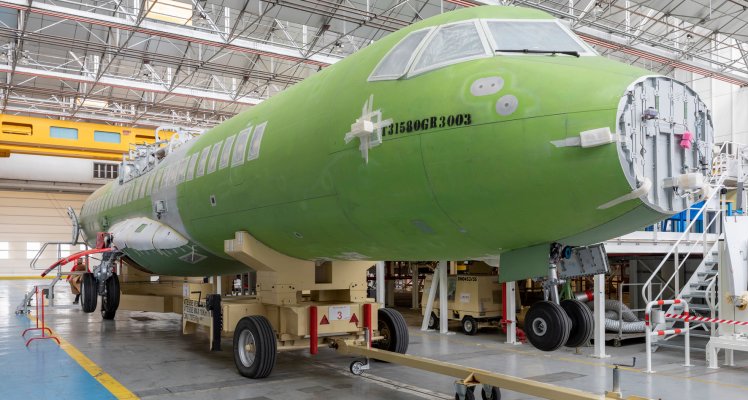 The fuselage of the first of Aurigny's new ATRs has arrived in the 'Final Assembly Line' in Toulouse.
The new ATR-600 is seen in the distinctive green primer that new aircraft don until they are painted. The green comes from the aircraft being coated in anti-corrosive green zinc, which is standard practice in any new build.
At this stage in the construction Aurigny has chosen the registration of the first aircraft and is proud to announce that this aircraft will be called G-OATR.
Aurigny CEO, Mark Darby, said: "It is really exciting to see the progress of the first aircraft and choosing a name is one of the many tasks we have had to complete. We had an internal competition where staff suggested various names which were not yet used in existing aircraft. We had a great response and will still have to decide on the second two aircraft in due course. I am thrilled that two of our staff suggested G-OATR and it signifies the commitment and relationship we have with the manufacturer ATR, and the belief we have in them as the best fit for the type of flights we perform."
The new ATR's will be equipped with ClearVision™ technology including a camera in the nose of the aircraft which will relay images to a Head Up Display work by the pilot. The system is currently being certified by the European Union Aviation Safety Agency.
Picture: Aurigny.