First Blue Islands aircraft in Flybe livery
1st June 2016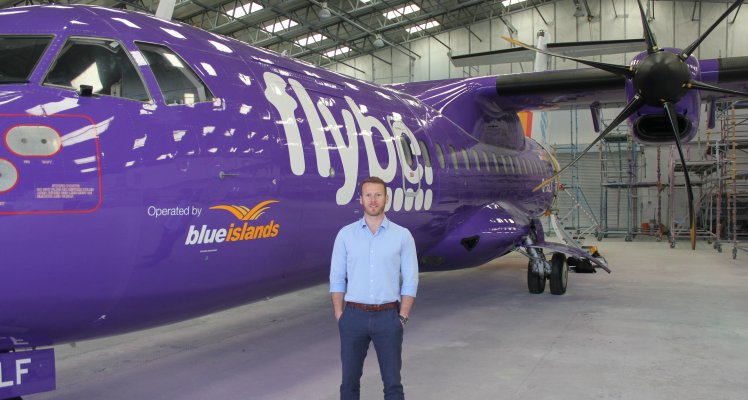 In preparation for its new Flybe franchise taking off on 6 June, the first Blue Islands aircraft to sport the distinctive purple Flybe livery flew into Jersey Airport on 31 May 2016 completing the first stage of the airline's repainting programme.
Rob Veron explained "We're excited to see the first of our ATRs in its new Flybe livery. This marks a significant moment in our transition to becoming Flybe's third franchise partner. In total, four of our five ATR aircraft will be re-painted as we adopt the Flybe brand."
Bookings for Blue Islands-operated flights can be made now at flybe.com including connecting flights to UK and European destinations in one booking.
Mr Veron added "We firmly believe this franchise partnership with Flybe will secure a robust and sustainable array of services for our islands. In addition to our direct services, 'through tickets' with a single booking mean easy connections to over 30 UK and European destinations and significant savings on APD (Air Passenger Duty). As a franchise partner, we will be able to put Guernsey and Jersey on the radar of potential new visitors."
Existing Blue Islands customers booked for travel from 6 June and onwards will have their bookings transferred to the new Flybe services. The only change will be a different flight number and booking reference; all other details including customer's free baggage allowance and flight times remain the same and no further action is required. Bookings made for travel up until 5 June inclusive can continue to be made at Blueislands.com.