First Hold Baggage Scanner arrives at Guernsey Airport
8th June 2021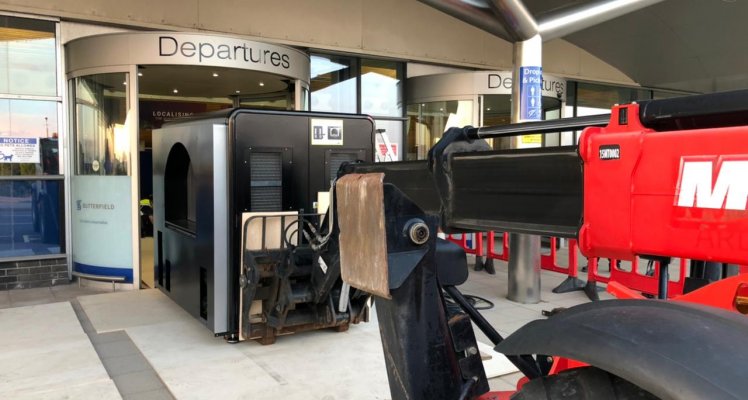 The first of two Hold Baggage System (HBS) scanners for Guernsey Airport has arrived and is being installed into its final position in a dedicated area recently constructed in the passenger terminal.
Guernsey Ports is making improvements to its HBS system, which will ensure compliance with the latest aviation security standards.
Guernsey Ports' Head of Passenger Operations and Aviation Security Steve Langlois said:
"The delivery of the first HBS scanner is a significant milestone in the project so far. Extensive testing and commissioning of the HBS scanner will now take place before passengers' hold baggage items are processed through it. The new system will remove the need for random manual searches of hold baggage by security staff. The project team and specialist contractors are working hard to ensure the equipment is ready ahead of the planned change in travel restrictions on 1 July 2021, despite the enforced delays caused by the COVID-19 pandemic."
Passengers travelling with Aurigny on UK flights can check-in their hold baggage items on the afternoon prior to the day of travel. Its Twilight Check-in is open every day from 3pm to 6.30pm.
Jess Mauger – PR Manager for Aurigny said:
"As customer demand and flights have increased and UK flights are now operating daily. Aurigny's Twilight Check-In service is now open seven days a week. We would strongly recommend our passengers use this service whenever possible on applicable services if travelling with hold baggage items."
Check-in on the day closes 45 minutes prior to the scheduled departure time. Passengers should allow plenty of time to complete their journey through the airport.