Flybe franchise partner Blue Islands to maintain East Midlands service
16th October 2019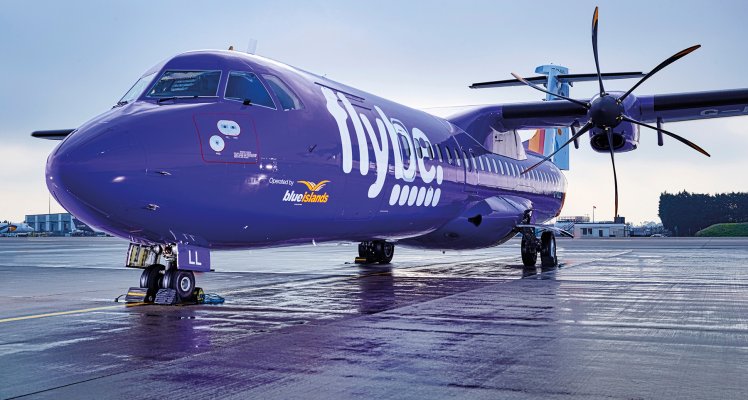 Flybe's Channel Islands-based franchise partner, Blue Islands, will operate services between Jersey and East Midlands with effect from Sunday 27th October 2019, with connections to/from Guernsey maintaining convenient connectivity to the heart of England. Flights can still be booked at www.flybe.com and are available from £39.99 one way.
The flights will operate up to four times a week on an ATR aircraft and increase to a daily service for Summer 2020. East Midlands Airport provides easy access to transport links and is an ideal gateway for those travelling across the East Midlands, Warwickshire, Staffordshire, South Yorkshire and beyond.
Flybe customers with existing bookings will be contacted in order of date of travel with a re-booking option to the new Blue Islands-operated service.
Rob Veron, CEO Blue Islands said: "We are delighted to provide a continuation of this route and pleased to be able to serve existing customers with uninterrupted connectivity. All flights can continue to be booked at flybe.com. What's more, we are pleased to be able to also extend our East Midlands service to Guernsey residents, offering even greater choice to and from the UK."
Roy Kinnear, Flybe's Chief Commercial Officer added: "We are pleased that our franchise partner, Blue Islands, will continue to operate this route and our customers can enjoy the added travel choice it provides to and from the Channel Islands."
Mr Veron continued: "This latest announcement further demonstrates our commitment to our home communities here in the Channel Islands as we continue to sustainably develop our route network and connectivity in a commercially considered fashion. This year Blue Islands has commenced services to Liverpool, Newquay and London Southend, with some 70% of passengers being additional visitors to our Islands."
Picture: Blue Islands.