FLYBE-LIEVE IN LOVE!
14th February 2017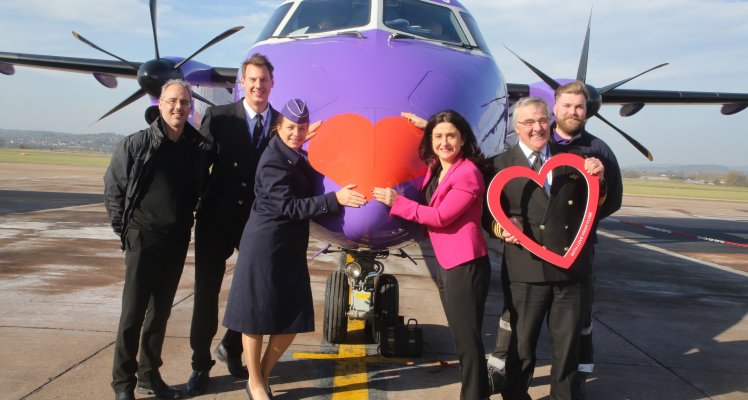 Europe's largest regional airline takes its 'Love Plane' to the skies for Valentine's Day!
Europe's largest regional airline, Flybe, has decked out one of its eye-catching purple Bombardier Q400 aircraft with heart motifs that will be seen soaring across the UK skies throughout Valentine's Day. The specially decorated aircraft can be spotted as it connects regional passengers between Exeter, Manchester, Amsterdam, Jersey and Guernsey (schedule below).
The airline would love as many people as possible to look skywards and snap photos of this plane both in the air and when it is on the ground; and snap romantic selfies with the on-board hearts on the 400-plus flights it will operate across its network tomorrow. Those who tweet their pictures to @Flybe with the hashtag #WithLoveFromFlybe will have the chance to win a free pair of return tickets for any Flybe flight.
Flybe's Chief Executive Officer, Christine Ourmieres-Widener, explains: "We know that everyone on-board a Flybe plane has their own story and reason for travelling. So often, our passengers are travelling to see loved ones. Our route network covers every corner of the UK, connecting not just people with places but people with people. This Valentine's Day we know many of our customers will be travelling to spend time with loved ones."
Last week, Flybe highlighted several love stories with their 'Love is in the Air' competition on Facebook where voters were asked to 'like' or 'love' the romantic story they liked the best. Each of the four stories featured a couple for whom Flybe had played a special part in their romance.
London couple Thomas and Peter were the clear winners, capturing the hearts of the nation with their story of how they bonded over a love of aviation, travelling regularly to see each other and celebrating with a Flybe-themed table at their 2016 wedding. They can now look forward to a pair of flights to a Flybe operated destination of their choice, with plenty of romantic locations to choose from.
Flybe Love Plane Schedule- 14th February 2017
Exeter - Manchester (0635-0805)
Manchester - Exeter (0850-0955)
Exeter - Amsterdam (1020-1255)
Amsterdam - Exeter (1340-1415)
Exeter - Jersey (1545-1630)
Jersey - Guernsey (1650-1715)
Guernsey - Exeter (1735-1815)
Follow the journey of the Love Plane via www.twitter.com/flybe and visit www.flybe.com for more information or to book a flight.