Good news for biodiversity as habitat restoration project commences at Icart
23rd October 2018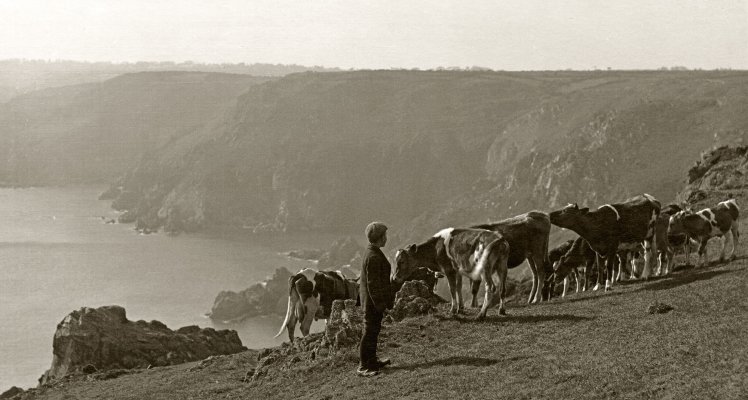 Work has begun to restore States of Guernsey owned land at Icart field to a locally rare dry grassland habitat which will support a wide range of plants, insects and birds.
This project is being funded by Guernsey Airport, as part of scheme to mitigate the environmental impacts from major works on the airfield completed in 2014.
Colin Le Ray, General Manager - Ports, for Guernsey Airport said:
"The first phase realised the reinstatement of an area of wetland at L'Erée and that has proven a great success. This next phase will create new grazing land, to make up for the loss of former agricultural fields at the western end of the runway. These were needed as part of the overall airport improvements, to provide longer runoff safety areas for the runway. Once complete, this project will offset the loss of those fields and we are pleased to be funding that work."
Andy McCutcheon, Principal Environment Services Officer, Agriculture, Countryside and Land Management Services says:
"This project has presented a fantastic and rare opportunity to reinstate an area of Guernsey's rare grassland. Without the funding from Guernsey Airport, the ecological value of this site would have continued to decline as bracken, bramble, gorse and blackthorn would continue to outcompete the more delicate flora."
The area that will be restored forms part of a Site of Special Significance (SSS) and is currently species poor, as bracken and scrub have been dominant for some time. Its enhancement through this project will greatly improve the biodiversity and special nature of this area over time.
Bracken and some scrub has been cleared and the area will be grazed each autumn by La Société Guernesiaise's Conservation Herd of Guernsey steers. The return of grazing to the cliffs has long been promoted, and the reintroduction of grazing at Icart means that the species diversity will increase.
The clearance of bracken and the grazing of cattle will enable the grassland to re-establish with native wildflowers, which will provide a source of food for insects, and in turn, insect eating birds.
Barry Wells, from La Société Guernesiaise, said:
"The Icart project is one of the first examples of environmental offsetting in the island and as such, is a unique opportunity to restore a declining local habitat. Whilst existing scrub supports a reasonable amount of wildlife, a landscape which includes a mosaic of different habitats encourages more biodiversity. By clearing some bramble and blackthorn, areas of rare maritime heath and dry grassland will be restored. As various wildflowers become re-established over time, a large number of invertebrates and other wildlife such as slow worms, hedgehogs and Guernsey voles will be able to colonize the area. The whole headland will be ecologically richer as a result."
Donna Francis, from the Guernsey branch of the RSPB said:
"Restoring pockets of declining habitats is crucial to increased island wide biodiversity; resulting in a variety of plant and animal life. These pockets create green corridors where human activities such as roads and residential developments have fragmented the landscape. This project is also a great example of NGO's and Government departments working in partnership and pooling resources."
The existing seedbank and soil structure should accelerate the restoration of the site. Icart headland also has remnant pockets of coastal heathland habitat, which may also establish at Icart the field. This is of international importance, as it is among the most scarce habitats found in Guernsey.
Julia Henney, Biodiversity Education Officer, said:
"Wildflower rich grassland and heathlands were once common around Guernsey's cliffs and coastal land. Unfortunately, as grazing of these sites reduced after the Second World War, bracken and bramble took hold and began to smother the wildflowers. This exciting restoration project – the largest of its kind in Guernsey – offers an opportunity to address the balance and restore these endangered habitats. Which, in turn, will protect the butterflies, bees and birds which rely on them. Some of which, such as the blue-winged grasshopper or Dartford warbler, are at risk of being lost from our island forever."
Under the Planning conditions for the works, a landscaping scheme detailing the trees and shrubs which will be planted on the north eastern boundary of the site near neighbouring properties has been submitted. No trees will be felled, however it will be necessary to make safe any dead or damaged pines to ensure there is no risk to livestock sheltering under them.
It is anticipated that next spring the field will be a beautiful sight of bluebells, now that the bracken and some scrub has been cleared. The new pathway will allow those visiting the area to admire the wildlife which will be attracted and recreates a convenient loop for walkers from the Icart car park.
The new pathway will be open for use early in 2019 after the tree and shrub planting has taken place.
Picture: La Société Guernesiaise.