Great Aircraft Pull Planned
25th May 2018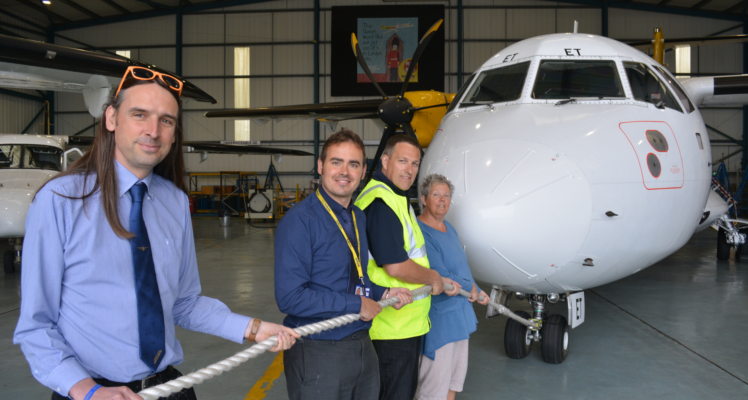 People power will replace propeller power when teams battle it out in this summer's "Great Aircraft Pull", a charity event to help celebrate Aurigny's 50th anniversary.
Aurigny is teaming up with two charities, Channel Islands Air Search and Friends of Sri Lanka, to host the ultimate test of strength, to pull a 13.5 tonne ATR-72 aircraft across the tarmac at Guernsey Airport.
We are now looking for teams to step forward and register to take part in the spectacle, due to be held on the evening of Saturday 23rd June.
Aurigny PR manager Paul Ainsworth said both charities approached Aurigny with the idea of a "Great Aircraft Pull" and it seemed like the perfect kind of event to help celebrate the airline's 50th anniversary.
He said: "Straight away we wanted to make this possible. It sounded like such a unique and fun event to be involved in and something completely different for the island. How often can say you've got the chance to pull a turboprop aircraft?
"We're now looking for teams who are up for the challenge and think they have the muscle power to move an aircraft across the finish line in the quickest time. This is Guernsey's ultimate test of strength and teamwork. You'll all need to be working together to shift 13.5 tonnes of aircraft."
Graham and Nicky Queripel, founders of Friends of Sri Lanka, thanked Aurigny and everyone who had helped to make this unique event possible.
"We are delighted to be part of Aurigny's 50th anniversary and team up with Channel Islands Air Search to raise much needed funds for both charities in this unique fundraising event."
David Hugo of the Guernsey Friends of Air Search said: "We are very pleased to have been chosen alongside Friends of Sri Lanka as one of the charities to benefit from the funds raised through the aircraft pull and are very grateful to the team at Aurigny and the many other companies and organisations who have made this exciting event possible."
Aurigny and the two charities would like to thank Guernsey Airport for granting permission for the event, as well as all the other parties involved.
While similar events have taken place in the past - for example in January 1988 when a team of 60 from a local running club pulled a BAe 'Whisper Jet' on Guernsey Airport's runway to raise funds for CIAS - the organisers believe this is the first local aircraft pull for several years.
The event is being held between 9pm and midnight on the evening of 23rd June and there is space for 12 teams (each made up of 10 people) to compete in the aircraft pull.
Teams of 10 can apply to take part and we will also accept individual applications (for people interested in joining a team). Each team member is asked to pay an entry fee of £15 and we are also looking for teams to collect sponsorship.
The closing date for entries is 3rd June. If there are more than 12 teams, we will allocate places on a first come, first served basis, and run a reserve list, in case any teams have to withdraw.
To register your interest in taking part, email greataircraftpull@gmail.com.