Guernsey Airport Fire Service
4th November 2015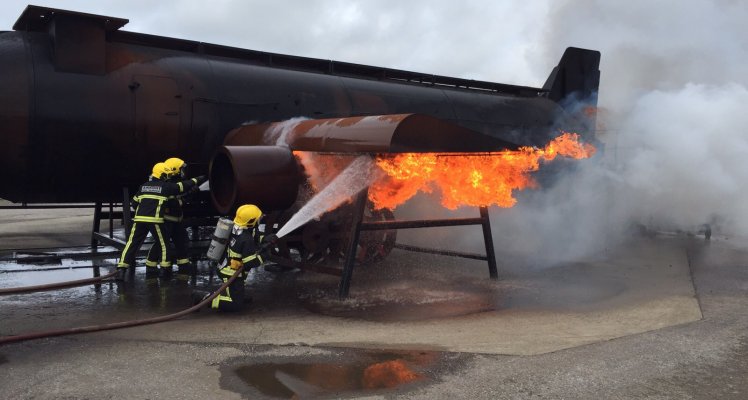 The Fire and Rescue team at Guernsey Airport can respond at a moment's notice to ensure the safety of all our passengers, aircraft and employees.
They are equipped and trained to deal with a wide range of emergencies comprising primarily of aircraft, medical, general fire and hazardous substance.
The will also assist other departments, such as Airport Operations, to ensure ongoing compliance with Civil Aviation Authority rules, including: runway inspections, assessing runway surface and visibility, bird control, perimeter security and foreign object management.
The Airport Fire Service employs 36 staff and operates from 6am to 9.30pm, 365 days a year, with 6 Firefighters, 2 Watch Managers and a Station Manager on duty at any one time. The airport's fire station is strategically located to enable full emergency response to any airside location within a minute of an alarm.
To assist the firefighters, they have a fleet of two Sides Fire Tenders, with a total capacity of 9,300 litres and foam solution 1,200 litres. The monitor delivers this at a rate of 4,500 litres per minute at 13 bar of pressure, along with 50kg of Monnex dry powder at 2.0kg per second. They also have a Cobra 2 with similar capabilities.
The Airport Fire Service utilise a Boeing 737 mock training Rig, which allows them to train and become familiar with some of the dangers and hazards that this size of aircraft brings. The rig allows the trainers to simulate and organise exercises such as engine fuel fires (which are fed with diesel fuel to replicate that of aviation fuel); allowing the crews to train as realistically as possible. The interior of the rig replicates that of a passenger aircraft and this can be smoke filled and heated with industrial heaters, which often reaches temperatures of 80°C to 90°C. This type of intense training prepares and conditions the Firefighters when carrying out search and rescue operations.