Guernsey Airport security project enters final stage
14th February 2019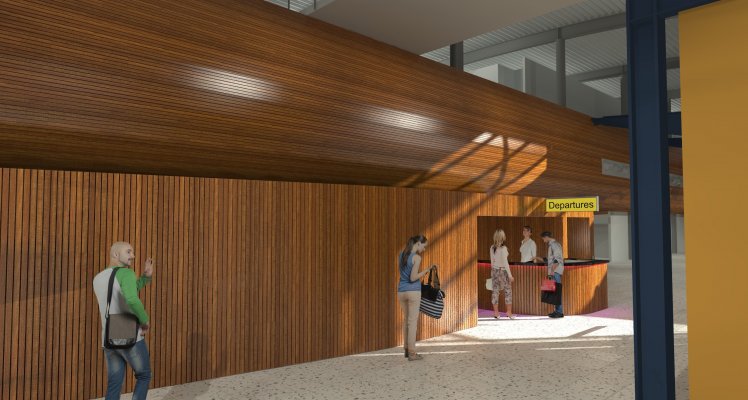 Guernsey Airport's security enhancement project is now entering its final phase before the upgrade work is due to be finished by the end of March 2019.
The two security lanes will continue to be available for peak time departures whilst this phase of work takes place. Additional space for passengers to place their outer clothing, cabin baggage, and electronic devices in special trays will be available.
Since start of 2019, contractors have been busy refurbishing the old security entrance area and integrating the space into the current facility now used by passengers, staff and business partners.
This final phase will see passengers queuing again in the main landside concourse area, this is as designed and the appearance of longer queues before the security podium is not because the process is taking longer, it is simply due to the fact the security combs have moved to just inside of the newly refurbished area.
Head of Aviation Services for Guernsey Airport – Ash Nicholas said:
"This has been a complex project, but it's pleasing we are now entering the final phases of work. Passengers will shortly be benefiting from more space, and a calming environment for security screening. What we are now doing is reconfiguring the landside departures concourse area where passengers will queue. Passengers can help ease the process by getting ready for security before they start queuing, such as taking off coats, getting electronic devices out of bags, and ensuring they stick to airline cabin baggage limits. The last phase of works will be airside as work starts to expand the duty free shopping area. Once finished, duty free customers will notice an expanded range of products and ranges that will be on sale for the first time at Guernsey Airport."
Passengers departing out of Guernsey should continue to allow plenty of time to check-in and security screening in order to meet their flight. If applicable, they should pre-book any special assistance with their airline at least 48 hours before departure. A sunflower lanyard is available from the Airport Information desk for those passengers with a hidden disability.
Picture: Tyrrell Dowinton Associates