Guernsey Ports emergency response exercise
20th November 2023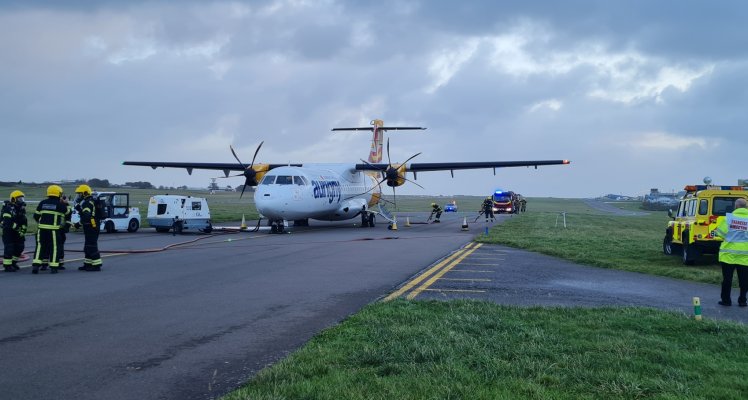 Guernsey Ports worked with the emergency services and other strategic partners on Sunday morning to test the island's response to a major incident involving a commercial passenger aircraft.
The joint response exercise, codenamed Exercise Jackdaw, saw all the emergency services work together to test their policies and procedures for dealing with a real emergency at Guernsey Airport.
The scenario for the exercise was an inbound ATR aircraft being struck by an unauthorised drone during landing. This caused the aircraft to make a heavy landing, with subsequent damage to the aircraft causing a fire to break out on board.
The full response procedures were initiated, with fire crews entering the aircraft in breathing apparatus to locate and rescue passengers. More than 20 passengers and crew were triaged and survivor clearance operations were carried out.
The exercise considered all the hazards that would arise from such an incident and how these would be dealt with.
It also simulated the communications that would be needed with external agencies, such as the Air Accidents Investigation Branch (AAIB), the Office of the Director of Civil Aviation and other national bodies.
Guernsey Ports head of airside operations Matt Capazario said: "This exercise was designed to test our emergency policies and procedures and assess the island's joint response to a major incident involving an aircraft.
"The exercise went very well. It was an important opportunity for all the different agencies to work together with a joint plan to build resilience and further strengthen our preparedness for a major emergency."
Mr Capazario said the circumstances of a genuine emergency had been replicated as much as possible, while making sure that the exercise was carried out safely and securely.
"Public safety is our highest priority and what we learn from this exercise will help us to continually improve our policies and procedures," he said. "We have a full debrief scheduled with all the agencies involved, where we will review what we have learnt from the exercise and use this to help inform our emergency planning.
"Although major incidents involving aircraft are rare, exercises like this provide us with valuable experience for how we would manage such a situation."
The exercise was timed to minimise inconvenience to the public and took place between 7am and 10am on Sunday morning.
The exercise involved staff from the Airport Fire and Rescue Service, Guernsey Airport, Aurigny, St John Emergency Ambulance Service Guernsey, Guernsey Fire and Rescue Service, Bailiwick Law Enforcement, Border Agency, JESSC, Princess Elizabeth Hospital, Guernsey Water, Guernsey Civil Protection volunteers and Guernsey's Emergency Planning Officer.