Guernsey Ports Supports #PurpleTuesday
2nd November 2021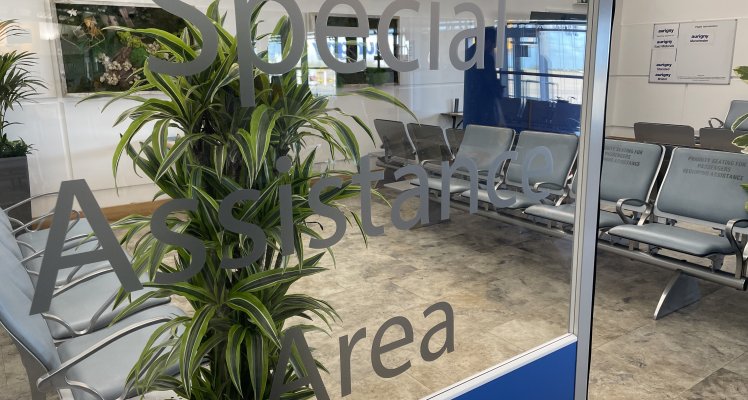 Guernsey Ports is fully supporting the aims of #PurpleTuesday which is a national campaign to improving the experience of those who have a disability. #PurpleTuesday, which takes place on the 2 November annually, aims create a step change improvement in the value and needs of disabled customers and making the experience accessible for people.
Other States of Guernsey service areas and local third-party organisations are also supporting the initiative.
The Ports have taken a number of steps to try and improve facilities for passengers who have a disability.
A new special assistance area at Guernsey Airport's departure lounge has been created. Specifically, designed seating for those who need more comfort or extra height have been purchased or made thanks to a donation from the Alderney Cancer Relief charity. The organisation offers Alderney residents an opportunity to apply for financial assistance during their cancer treatment and care.
The Aviramp system, which allows step-free access on certain aircraft types, has been in operation since May 2021.
The AccessAble guide for the foot passenger ferry terminal on the New Jetty in St Peter Port will be extensively updated following a recent audit of all States of Guernsey public buildings.
Customer Services Manager for Guernsey Airport Malcolm Mechem said:
"Guernsey Ports ensures the needs and requirements of passengers who have a visible or hidden disability are met whenever possible. We know for some people with a disability, travel by air or sea can be a daunting experience. We believe the new special assistance area in departures for Guernsey Airport will be warmly welcomed by passengers."
Chief Operating Officer for Guernsey Ports Ross Coppolo said:
"The Ports are always seeking ways to improve passenger services for those with disability and extend the opportunity to travel by air and sea for all. Its pleasing to see these latest enhancements in the Ports' passenger terminals and the hard work put in by our staff. We would like to thank the charity Alderney Cancer Relief for their donation to this project."
The States of Guernsey's Disability Officer Gill Evans said:
"I would like to thank Guernsey Ports for this investment in a new special assistance area at Guernsey Airport with help from Alderney Cancer Relief. These facilities will be warmly welcome for those passengers who have a disability or require special assistance. The recent AccessAble audit of public buildings in the Bailiwick will help people with a disability be more independent and plan their journey."