Hold Baggage System works progress
18th May 2021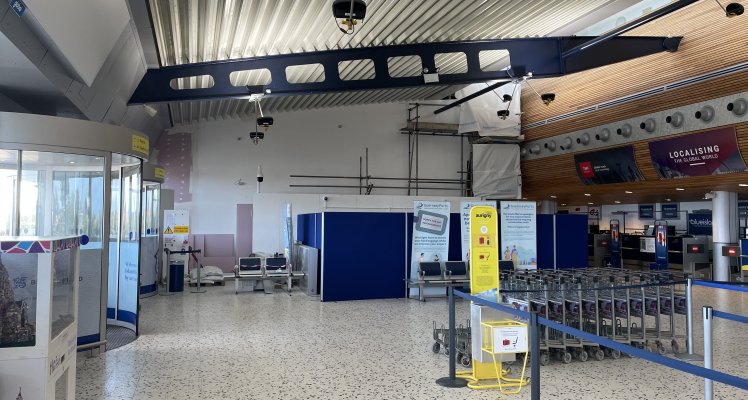 Local contractors are making significant progress creating additional space for the new Hold Baggage System (HBS) at Guernsey Airport. Guernsey Ports is making improvements to its HBS system, which will ensure compliance with the latest aviation security standards. The new equipment will have increased resilience and remove the need for random manual searches of hold baggage by security staff.
Significant demolition works are progressing at the western end of the passenger terminal, as Guernsey Ports' Head of Passenger Operations and Aviation Security Steve Langlois explains:
"The main wall covering the site has now been constructed and the area is enclosed from the passenger landside concourse. The construction of this new wall has created the space for the new scanners and conveyor system."
A floor area of approximately 390 square metres (4,200 square feet) will be created by contractors to house the entire HBS and the various support systems the two scanners require to function. The scanners each weigh 6.5 metric tons, which is just bigger than a medium sized truck. The HBS scanners are 5 metres long, have a width and height of 2 metres. Each of the machines can process over 1,000 items of hold baggage an hour.
Mr Langlois added:
"The assembly of the new scanners and conveyor equipment in the UK is making excellent progress. Once the extra space has been created in the terminal, the shipment, installation and commissioning of the systems can begin. The project team has been working very hard to implement the first of the new scanners ahead of the planned change in travel restrictions on 1 July 2021 and is optimistic that this will be achieved, despite enforced delays caused by the COVID-19 pandemic."
Passengers travelling with Aurigny on UK flights can check-in their hold baggage items on the afternoon prior to the day of travel. Its Twilight Check-in is open from 3pm to 6.30pm between Sunday to Thursday.
Check-in on the day closes 45 minutes prior to the scheduled departure time. Passengers should allow plenty of time to complete their journey through the airport.