Isolation Free Holidays to the Isle of Man Now on Sale with Aurigny
1st July 2020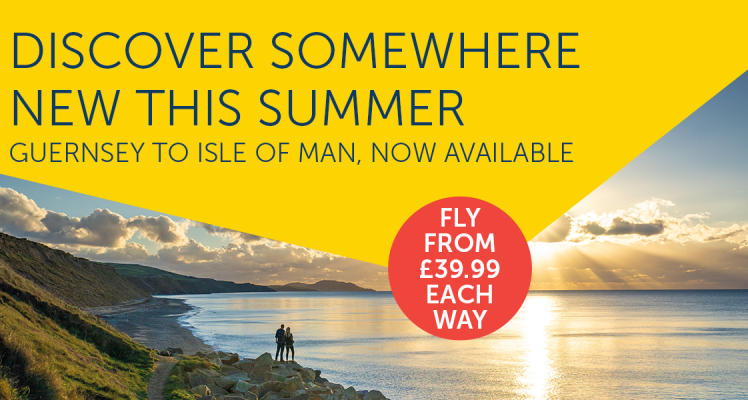 Flights to the Isle of Man from Guernsey are now on sale offering people the unique opportunity to travel between the islands without the need to isolate.
Aurigny are delighted to confirm that they will be offering two flights a week between Guernsey and the Isle of Man as part of an airbridge bubble agreed by both island Governments and announced last week.
Fares will start from £39.99 each way and Isle of Man hotel and accommodation providers are also offering great 'staycation' rates for those travelling from Guernsey to ensure residents will be able to get a good deal for an isolation free holiday this summer. Just like Guernsey, the Isle of Man is now fully open with no social distancing measures in place so a visit to the island is a great opportunity to visit somewhere different and enjoy the same freedom.
The flights will commence on Wednesday 22 July 2020 and will run until the end of August, with the last flight taking place on Sunday 30 August 2020.
Mark Darby, Chief Executive for Aurigny, said: "We are delighted to be launching a new route in the midst of this pandemic. It is testament to the way both island Governments have handled the crisis and means that Islanders will be able to take a holiday this year. This initiative would not have happened without the support of the Governments, and airports in each island."
The new route enables Aurigny to take to the skies on a regular basis with customers once again travelling for pleasure.
Booking can be made via Aurigny.com. Full schedule is below:
From Wednesday 22nd of July to Sunday 30th of August 2020
WEDNESDAY
GR706 Departing Guernsey 12.00 - Arriving IOM 13.40
GR707 Departing IOM 14.10 – Arriving Guernsey 15.50
SUNDAY
GR710 Departing Guernsey 16.50 - Arriving IOM 18.30
GR711 Departing IOM 19.00 – Arriving Guernsey 20.40
Picture: Aurigny