New Aurigny ATR Aircraft, 'G-OATR' Arrives in Guernsey
28th October 2019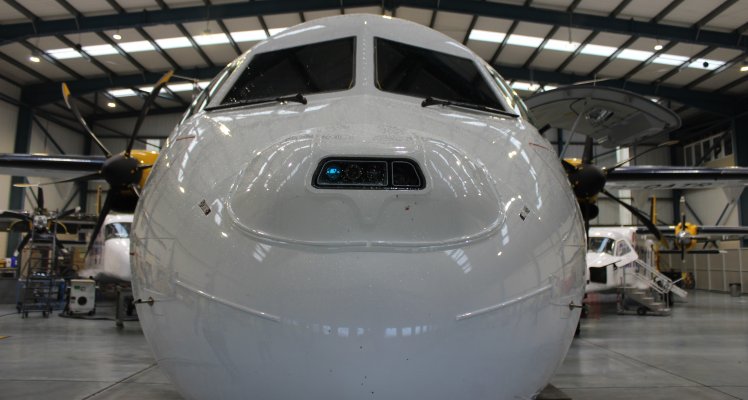 The first of Aurigny's new ATR aircraft has now arrived in Guernsey after being officially delivered by aircraft manufacturer ATR.
The aircraft, registered G-OATR, will be the first of the three ATR 72-600s to join the Aurigny fleet. Aurigny are the launch customer for the ClearVision™ Enhanced Vision System (EVS). The EVS will provide pilots with outstanding vision and situational awareness during conditions of reduced visibility. Once Aurigny's pilots have completed their conversion training in 2020 this new technology will enable landings in lower visibility than is possible today.
Aurigny's Chief Executive Officer, Mark Darby, said: "We are very proud of Aurigny's role in providing essential connectivity between Guernsey and the United Kingdom. Our customers depend on the services that we provide, and we want to deliver them the very best. Our ATR fleet has been key in that for many years and upgrading our fleet will allow us both to optimise our operations with the very latest avionics while providing our passengers with a modern, comfortable cabin, in which they can relax and enjoy their flights."
Stefano Bortoli, Chief Executive Officer of ATR commented: "Regional airlines often have a tough job and it is our role to make sure that we do everything that we can to support them. When an airline upgrades its ATR fleet to the latest generation -600 Series, it tells us that what we have delivered has supported their operations and that they trust us to continue delivering innovations that will make a genuine and positive impact in the future."
Each of the new ATRs come fitted with a contemporary cabin design meaning that Aurigny customers will benefit from the modern 'Armonia' cabin which will introduce the latest standards of comfort, offering more space for luggage in overhead lockers and providing passengers 18" wide seats. The new aircraft will help bring down the airline's operating costs and will optimise its operations by using the most efficient regional aircraft. ATR says an 72-600 aircraft burns up to 40% less fuel and emits 40% less CO2 per passenger seat compared to a regional jet.
The arrival of the new aircraft will significantly decrease the average age of the airline's fleet and in turn reduce maintenance and disruption costs.
The aircraft is due to go into service next week. However, as we understand the significance of a new plane and the interest this generates from the public of Guernsey, therefore an open day is being arranged for people to view G-OATR at Guernsey airport – more details of this will be released shortly.
Picture: Guernsey Airport