Pets on planes gets the 'paws' up!
8th January 2020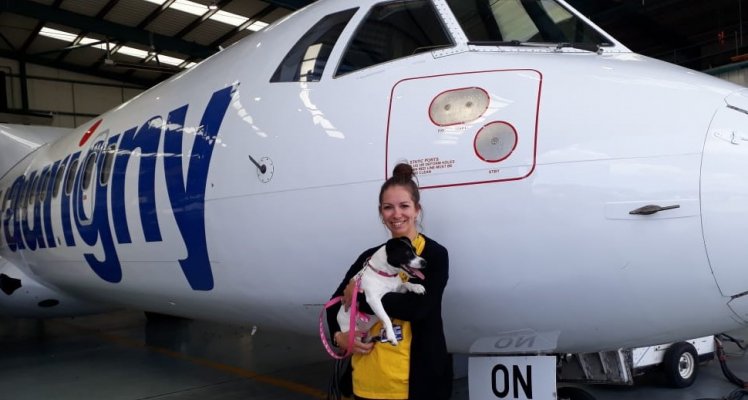 The introduction of pet travel on Aurigny's Jersey and Southampton services has already been a huge success and the airline is looking to see if it can introduce the service on other routes. Pets are also permitted on the Alderney services.
Since its introduction, at the beginning of December, 20 dogs have travelled from Southampton to Guernsey and 12 dogs have travelled from Guernsey to Southampton. Aurigny can also confirm a further 12 advanced bookings between the two destinations with more expected as the service grows in popularity.
Aurigny introduced the service to make it easier for owners to travel with their pets and has seen many of its animal loving customers benefitting from this service. At this time pet friendly flying is limited to cats and dogs.
The airline appreciates that many people wish to take their dogs on holiday to the UK or Jersey, in addition many islanders buy dogs and cats off island, which, until now may have meant a lengthy journey on the boat. The service was very popular over the festive period especially as many ferries were cancelled due to bad weather or operational reasons.
Only one pet per flight is permitted and they will travel in a cage in the front hold. The services to Southampton and Jersey are amongst Aurigny's shortest flights so pets should experience a low stress brief journey.
If passengers wish to book a cat or dog on one of the flights to Jersey or Southampton this can be done online for flights after the 29th of March 2020.
Passengers can also contact Aurigny's Reservations on 01481 267267 for flights prior to the 29th of March 2020.
Pets can travel from as little as £35 each way, full terms and conditions are via www.aurigny.com.
Picture: Aurigny