Piano Project Unveiling – Airport Terminal
6th December 2019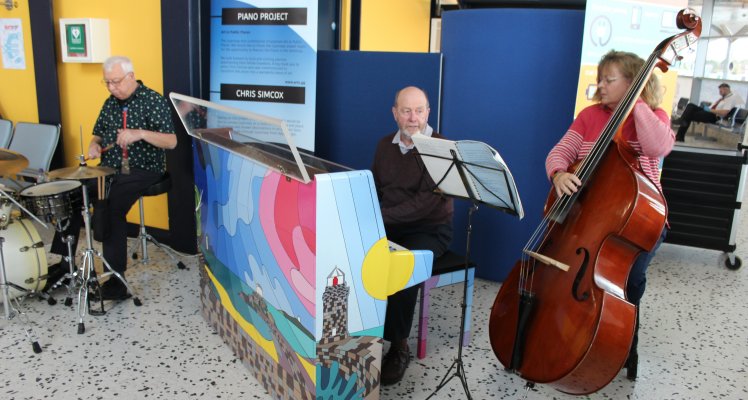 Guernsey Arts Commission presents the piano project. Earlier this year the GAC organised an opportunity for local artists to put forward their ideas to design the artwork for a Piano to be placed at the Guernsey Airport departures concourse. With a final public vote, artist Chris Simcox was chosen to recreate his concept on the Piano and has produced an extraordinary Art work, which depicts a walk-through Guernsey landscape from dawn to dusk. The painting is of a bright nature colourful a full of life. The images on the piano create a movement from one place to another in a fluid and musical way.
Head of Arts Development for the GAC Russ Fossey said:
"The piano is not only beautiful as a work of visual public art it also serves as a musical instrument filling the space with sound and energy. The piano will be placed at the airport for the public to see and musicians to have an opportunity to play. All around the world there are beautiful pianos placed in public spaces, bringing a lively atmosphere in the area. The Guernsey Airport is about to become one of those places where Art and people come together."
Head of Aviation Services at Guernsey Airport Ash Nicholas said:
"Guernsey Airport is pleased to support this installation of public art in the terminal building. The design on the piano captures Guernsey in a very compelling and unique way. It is anticipated that passengers and airport users can make use of the piano in a way that celebrates the musical talent in the Bailiwick. We hope the piano will be as successful like at other transport hubs such as St Pancras International railway station in London."
Artist Chris Simcox said:
"I'm interested in colour, line and shape in the context of the landscapes that surround us whether it's urban or the natural environment. To reveal what maybe hidden and strip back, to discover the multi-layered world that surrounds us. This kind of leads me to become fascinated with mixing shapes and constructions with the playful use of colour, texture and line. I also have a keen interest in illustration, graphic design and drawing, especially birds."
The Guernsey Arts Commission would like to thank the Arts Foundation Guernsey for funding the project and to Guernsey Airport for their help and support in realising the initiative.
Picture: Guernsey Airport