Specsavers Winter Wonderland tickets on sale
10th November 2020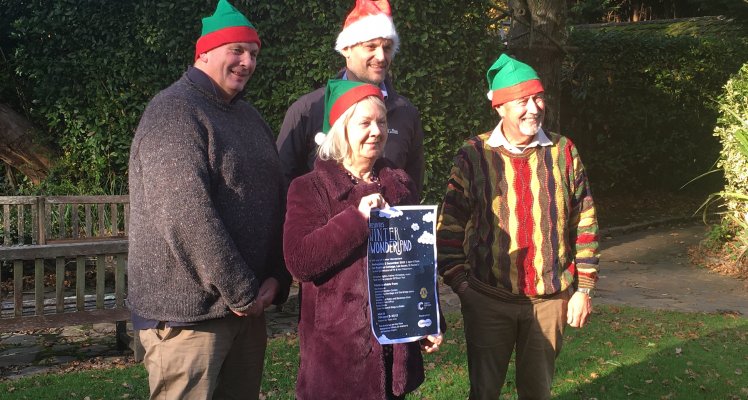 The spirit of Christmas will return to St Saviour's next month as plans for the Specsavers Winter Wonderland continue.
Specsavers has once again partnered up with the Lions Club of Guernsey and Cancer Research UK Guernsey branch to support the annual event, which is now in its 24th year.
Specsavers will be providing free buses from the company's car park and to help ease congestion this year, especially around the La Villiaze area, Guernsey Airport has kindly agreed to allow members of the public to use the airport carpark. Buses will run from both venues shuttling people back and forth to the venue. Islanders are also encouraged to walk from Specsavers. There will be some extra lighting along the route, which only takes around 10 minutes.
Head of Passenger Operations & Aviation Security at Guernsey Ports Steve Langlois said:
"Guernsey Ports are proud to support this community event, which raises money for good causes. Due to the downturn in travel, caused by the Covid-19 pandemic, we are in a position this year to make one of our airport car parks available for the event. Anyone who is parking at Guernsey Airport should follow the signage and directions of event staff."
While the majority of seasonal events across the UK have been axed this year, including Winter Wonderland in Hyde Park, islanders are in a unique position to enjoy the festivities with their family and friends.
Taking place on Wednesday 2 December from 6pm to 8.30pm, the popular spectacle is expected to attract more than 3,000 visitors to the grounds of the Bachmann's family home.
All money raised at the event will be split evenly between the two charities.
Rob Holder, past president of the Lions Club of Guernsey, says: 'We are once again very excited to be working with Specsavers to help organise Winter Wonderland. The event not only signals the start of Christmas for many islanders but also raises essential funds for those in need at this time of year.'
Chair of the Cancer Research UK Guernsey branch, Bryan Lean, says: 'This is a wonderful festive experience for families to enjoy, while also supporting our funded research to ensure "We Will Beat Cancer".'
A Christmas-themed marquee, sponsored by Skipton International, will be filled with a variety of stalls, including hot food and drinks, popcorn and toffee apples, mince pies, a bottle stall and glow products for children. Last year's Christmas Elf Door Trail will also be making a return.
Guernsey Electricity is also supporting throughout the evening to help power all the lights.
Co-founder Dame Mary Perkins says: 'We know it has been an exceptionally tough year for everyone, but we hope this year's event will bring some much-needed enjoyment and magic to the island community. We are looking forward to adding some extra Christmas sparkle which we hope will be enjoyed by many islanders young and old.'
People are advised to bring a torch and car share where possible. Hand santizers will also be available on the entrance gate.
The Specsavers Winter Wonderland will re-open on Monday 7 December specifically for those living with autism.
For more information visit the Specsavers Winter Wonderland Facebook page.
Tickets will be on sale at the following places: Stan Brouard, Earlswood Garden Centre, Creaseys (Le Bordage and the Bridge stores), Shoestring, Woodies (Le Pollet and Bordeaux kiosk), St Peter's Post Office, Forest Store and Cancer Research shop, Le Pollet. Entrance by ticket only.