Aurigny Launch Twilight Check-In Service
7th April 2021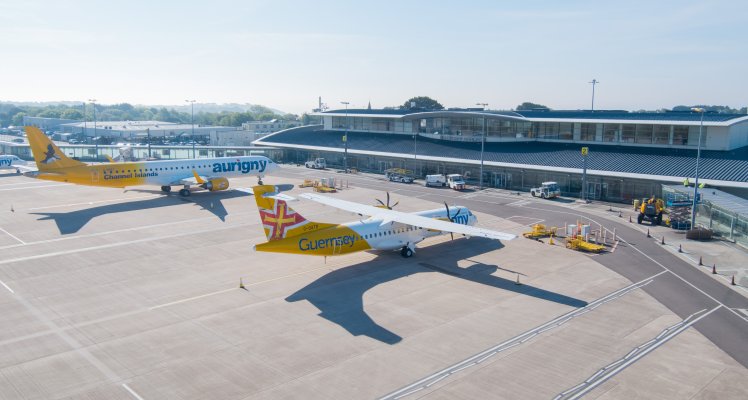 Aurigny has launched a twilight check-in service for all its UK flights to help alleviate queues or delays for customers on their day of travel.
Due to ongoing redevelopment works with Guernsey Airport's Hold Baggage System and the need for some hold luggage to be hand searched while this is completed, the check-in process may take longer than normal. To help our customers, Aurigny are working with Guernsey Airport to operate a Twilight Check-In service for all UK flights from 3pm-6.30pm Sunday to Thursday, so that you can check-in bags the day before you fly.
Aurigny are strongly advising customers to take advantage of this service if they are travelling with hold baggage and to thank them each passenger will receive a £2.50 voucher from Guernsey Airport to be able to spend in departures on the day of their flight.
Guernsey Ports' Head of Passenger Operations and Aviation Security Steve Langlois said:
"We would encourage all passengers who are travelling with hold baggage to use Aurigny's 'Twilight Check-in service' at this time. Passengers on eligible departing flights out of Guernsey Airport for the following day's travel with Aurigny, can check-in all their hold baggage items. If hold baggage items are selected for a random manual search by security staff, this will be carried out at the time of check-in. As a token of our appreciation to all passengers using this service, the Airport will provide a refreshment voucher to use in Bailiwick Bar Kitchen in departures."
Aurigny would like to remind its customers that all passengers on a booking (apart from children/infants on an adult booking) must be present at check-in, so one passenger cannot drop bags off on behalf of other adult passengers.
If customers choose not to use the Twilight service then due to the improvements being carried out at the airport, check-in on the day currently closes at the very latest at 45 minutes before flight time, so please arrive at the airport well before this time.